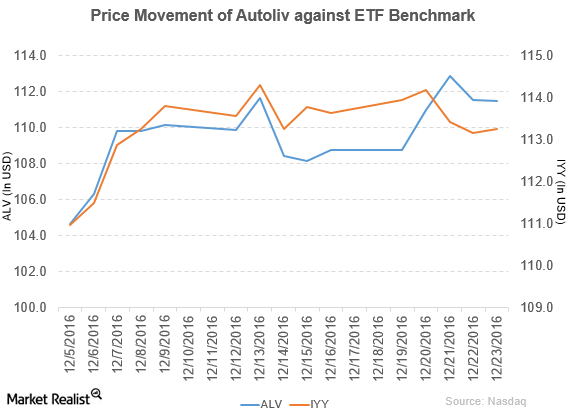 What's the Latest News on Autoliv?
Price movement
Autoliv (ALV) rose 2.5% to close at $111.46 per share during the third week of December 2016. The stock's weekly, monthly, and year-to-date (or YTD) price movements were 2.5%, 10.7%, and -8.7%, respectively, as of December 23.
ALV is trading 3.6% above its 20-day moving average, 9.6% above its 50-day moving average, and 2.4% above its 200-day moving average.
Article continues below advertisement
Autoliv's rating
On December 23, 2016, Reuters reported, "Automakers may recall as many as 400,000 vehicles that have Autoliv Inc. seat belt and air bag parts worldwide, the Swedish auto safety parts maker said on Friday."
It added, "Autoliv, which says its products are in 1,300 auto models around the world, did not specify which automakers would be affected."
It also noted, "No crashes or injuries have been reported in the two separate issues Autoliv reported to U.S. safety regulators and the costs of the potential recalls will not be material to Autoliv earnings, company spokesman Thomas Jonsson said."
Article continues below advertisement
Performance of Autoliv in 3Q16
Autoliv reported 3Q16 net sales of $2.5 billion, a rise of 13.6% compared to $2.2 billion in 3Q15. The company's gross profit margin narrowed by 490 basis points, and its operating margin narrowed 60 basis points.
Autoliv's net income and EPS (earnings per share) rose to $135.5 million and $1.56, respectively, in 3Q16 compared to $99.1 million and $1.12, respectively, in 3Q15. It reported adjusted EPS of $1.63 in 3Q16, a rise of 6.5% compared to 3Q15. Autoliv's cash and cash equivalents fell 11.3%, and its inventories rose 12.3% between 4Q15 and 3Q16.
Quarterly dividend
Autoliv (ALV) declared a quarterly dividend of $0.58 per share on its common stock. The dividend will be paid on March 2, 2017, to shareholders of record at the close of business on February 15, 2017.
Projections
Autoliv made the following projections for 4Q16:
flat organic sales growth
adjusted operating margin of 9.0%, excluding costs for capacity alignments and antitrust-related matters
The company made the following projections for 2016:
organic sales growth of ~7.0%
adjusted operating margin of more than 8.5%, excluding costs for capacity alignments and antitrust-related matters
For an ongoing analysis of this sector, be sure to visit Market Realist's Consumer Discretionary page.