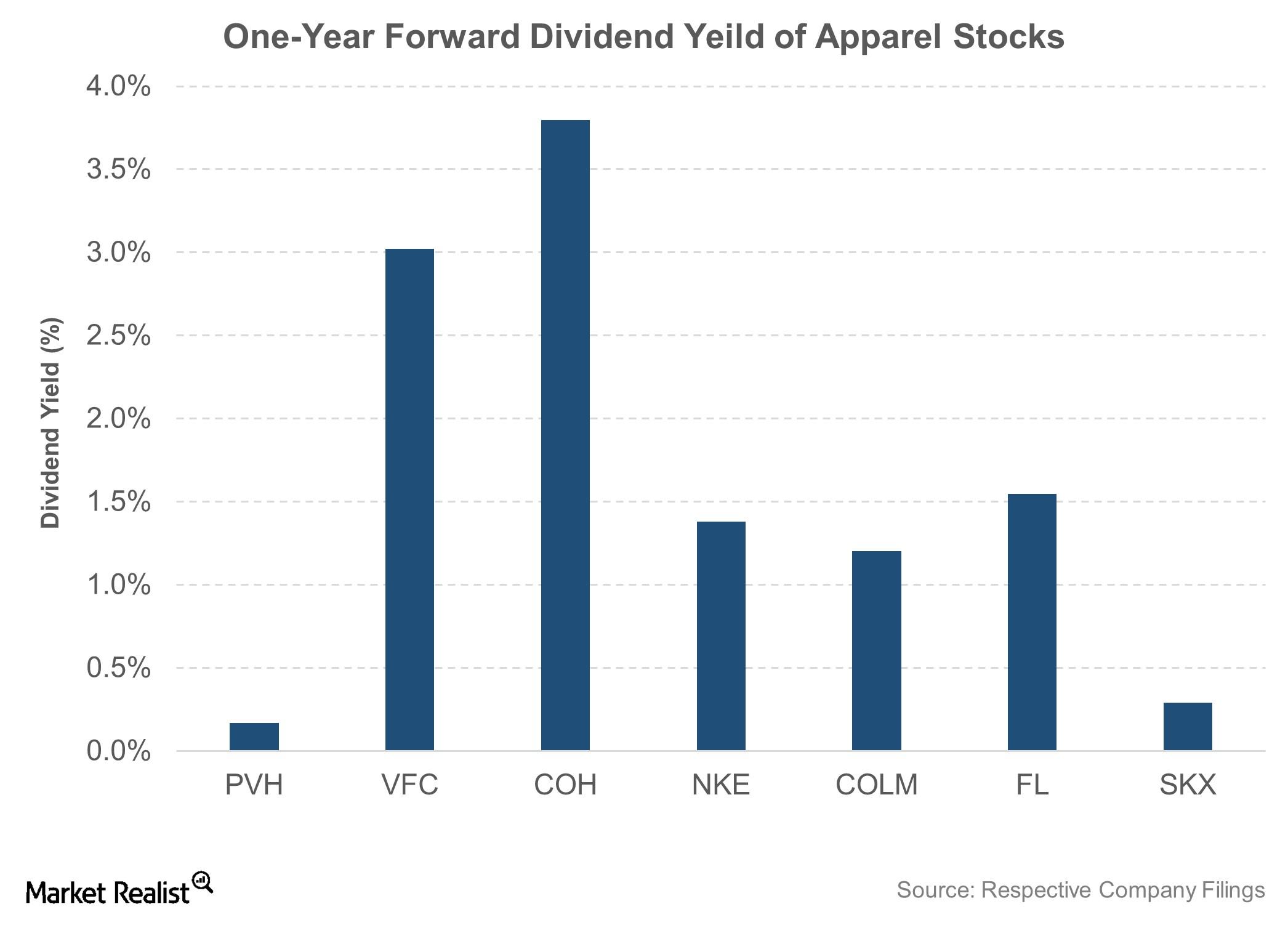 What's Nike's Dividend Policy?
Shareholder returns
Nike (NKE) is a consistent dividend payer and has increased dividends over the last 14 years. The company has grown its dividend per share by an average of 15% in the last six years.
The company has a target to be in the top quartile of the S&P 500 in terms of shareholder returns by fiscal 2020. It, therefore, follows a financial strategy of paying regular dividends and buying back shares in order to boost its shareholder returns. Nike has a $12 billion share repurchase program in place, under which it has repurchased 20.1 million shares for a sum of $1.2 billion since November 2015.
Article continues below advertisement
Dividend payout and yields
Nike's one-year forward dividend yield is hovering around 1.4% as compared to 1.2% for Columbia Sportswear (COLM) and 1.5% for Foot Locker (FL) as of December 16, 2016. Competitors Lululemon Athletica (LULU) and Under Armour (UAA) do not pay dividends.
The company paid 62 cents in dividends on each share in fiscal 2016. Its dividend payout was ~32% during the last fiscal year. Nike aims to keep its dividend payout at 25%–35% over the next 4–4.5 years.
The company is on the Dividend Achievers list, which comprises of around 270 companies that have increased their dividends for at least ten consecutive years. VF Corp and Gap are other apparel stocks on the list.
Nike is a part of the Vanguard Dividend Appreciation ETF (VIG). VIG invests 1.7% of its portfolio in the company.
Read the next section to learn about the Wall Street recommendations and ratings on Nike.