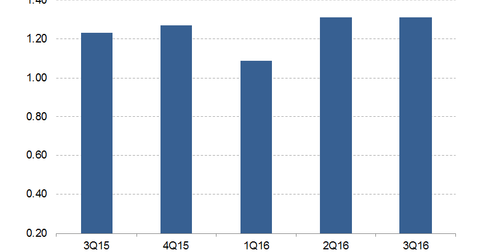 How Does the Yahoo! Hack Affect the Verizon Deal?
By Ruchi Gupta

Updated
Yahoo! says more than 1 billion accounts breached
Verizon (VZ) is reviewing the impact of a fresh hack on the Yahoo! (YHOO) system that affected more than a billion accounts. The hack reportedly happened in 2013 and is separate from an earlier incident that Yahoo! said happened in 2014. Yahoo! has blamed state-sponsored actors for the 2014 hacking of its system that compromised more than 500 million accounts.
Verizon was already reviewing the impact of the 2014 Yahoo! hack when the fresh one surfaced. But will the fresh hacking revelation force Verizon to change its mind on the deal?
Article continues below advertisement
Fate of the deal depends on review outcome
Verizon (VZ) agreed to acquire Yahoo's core assets for ~$4.8 billion, but the price could be renegotiated downward depending on the outcome of the ongoing assessment of the hacking events.
The 2013 hacking of Yahoo's corporate network, which could be the largest theft on record of personal data, led to the loss of personal data ranging from telephone numbers to dates of birth stolen from Yahoo! subscribers. Yahoo! suspects that the hackers who raided its system in 2014 stole similar data from its users.
Verizon has multiple options on its hands to deal with the Yahoo! buyout deal. The company could walk away from the deal or ask for a discount on the price it originally agreed to pay for Yahoo! assets that include Yahoo Finance and Yahoo Sports.
However, we believe that it's unlikely that Verizon would walk away from the deal. Despite the hacking problems, Yahoo! has valuable assets that could help Verizon attain its goals as it tries to fend off competition its industry.
US (SPY) telecom incumbents Verizon and AT&T (T) have been put on the defensive as smaller rivals T-Mobile (TMUS) and Sprint (S) wage a relentless price war. The incumbents have turned their focus to investing in media assets to grow outside their mainstay carrier services.