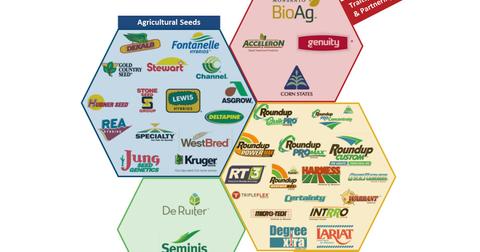 Understanding Monsanto's Products and Brands
By Adam Jones

Updated
Monsanto's products
Back in 1901, Monsanto's (MON) first product was saccharin. However, the company's Agricultural Chemicals business only arrived in 1945. Today, MON's products help farmers (MOO) to increase productivity in their crop yields, increase crop nutrition, and protect crops from insects and weeds.
To serve this purpose, Monsanto has many brands and products that are categorized into four segments. Let's look at them in more detail.
Article continues below advertisement
Agricultural seeds
As the name suggests, brands under the agricultural seeds segment include seeds such as corn, soybean, canola, wheat, sorghum, and cotton. 
Under the agricultural seeds umbrella, the company also sells hybrid seeds that help to increase the yield of ethanol from corn or the yield of oil from soybean. Some well-known brands under this segment are Dekalb, Deltapine, Asgrow, and Kruger Seeds.
Traits, technology, and partnering
Under the traits, technology, and partnering segment, Monsanto aims to license its traits and germplasm technology to independent seed companies. 
Corn States licenses Monsanto's technology for corn, cotton, soybean, and other seeds to companies. Under the Genuity brand, the company sells Roundup-ready and advanced seeds that can tolerate droughts, enhance yields through better nitrogen management, and protect themselves from insects.
Article continues below advertisement
Vegetable seeds
Monsanto's vegetable seeds segment aims to enhance flavor and nutrition through biotechnology. Under this segment, the company sells broccoli, carrot, fennel, cabbage, cauliflower, onion, tomato, and cucumber seeds, among others.
Weed control
Pesticides and herbicides are key products under the weed control segment. As the name suggests, products under this line help farmers to protect their crops from weeds, disease, and insects. Roundup is one of the most famous brands in this segment, since both agricultural and lawn and garden customers are likely familiar with it.
Companies such as Dow Chemical (DOW), DuPont (DD), and FMC (FMC) also sell herbicides and pesticides to agricultural customers.
Next, we'll look at Monsanto's sales.