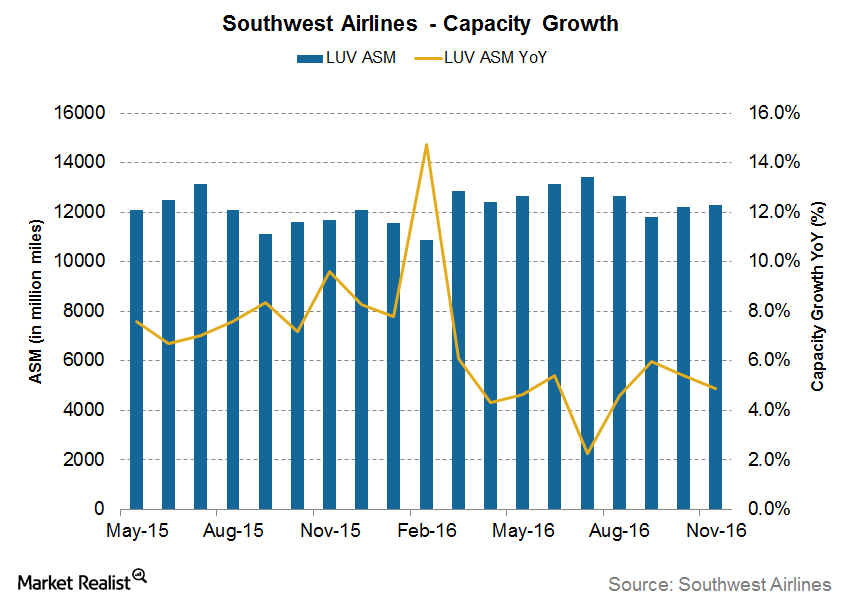 Southwest Airlines: Slowing Capacity Growth in November
Capacity growth
For November 2016, Southwest Airlines' (LUV) capacity grew 4.9% YoY (year-over-year). It's slower than 5.4% YoY growth the previous month. The highest growth of 14.7% YoY was seen in February, while the slowest growth of 2.3% YoY was seen in July.
Southwest Airlines' capacity growth stood at 5.8% YTD in November. For fiscal 2015, the capacity growth stood at 7.3% YoY.
An airline's capacity is measured using ASM (available seat miles). ASM is calculated as the number of seats available with the number of miles that can be flown.
Southwest Airlines forms 2% of the First Trust NASDAQ Rising Dividend Achievers ETF (RDVY).
Article continues below advertisement
Oil savings make it possible
Crude prices fell more than 60% in 2015. They continued to remain low in 2016. Since jet fuel is one of the major expenses for airlines, the fall meant ample savings and a cash surplus. Airlines used the money to increase their capacity.
Outlook
Southwest Airlines had been prudent about its capacity growth in 2015 and 1H16. It matched the capacity growth with traffic growth. Its planned capacity expansion for 2016 is 5%–6%. Except for 1Q16, Southwest Airlines maintained capacity growth at this rate.
However, investors have been concerned about overcapacity in the airline industry. Southwest Airline's traffic growth lagged behind capacity growth for the past three to four months. It added to investors' skepticism about the stock. The traffic performance in November was a welcome surprise. We'll discuss the traffic performance in the next part.
We'll also discuss how Southwest Airlines' peers performed such as JetBlue Airways (JBLU), Spirit Airlines (SAVE), and Allegiant Travel (ALGT).