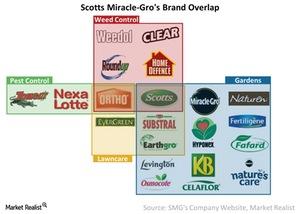 How Scotts Miracle-Gro's Brands Overlap
Scotts's products and brands
The Scotts Miracle-Gro Company (SMG) sells many products that enable customers to grow and maintain lawns and gardens. Since growing lawns and gardens requires several elements, it's not unusual that several players serve the market (FXZ). These include Central Garden & Pet (CENT), Spectrum Brands (SPB), and Seabord (SEB). The Scotts Miracle-Gro has several brands under its umbrella, and some of them overlap.
Article continues below advertisement
Gardens
There are currently 13 brands under Scotts Miracle-Gro's Gardens division. Products under this division include soil, peat moss (for water efficiency and nutrient management), manure, mulch, stone, sand, seeds, plant nutrients, pesticides, and herbicides. These products are sold to consumers and commercial customers. Later, we'll discuss SMG's target market in further detail.
Lawn Care
The Lawn Care division houses five brands. Products under this division are similar to those described above but specifically targeted at customers interested in growing and maintaining only lawns. A golf course is an example of a customer profile under this division.
Article continues below advertisement
Weed Control
Under the Weed Control division, the company has six brands. Products under this division include weed control products for crabgrass, moss, and lawns. This division also includes insecticides and pest control products. One major brand under this division includes Roundup. Roundup is a brand belonging to Monsanto (MON). Scotts Miracle-Gro is an exclusive agent of market consumer Roundup products for the company in the United States and certain other countries.
Pest control
As the name suggests, this division targets pests including rats, mice, moles, gophers, moths, mosquitos, houseflies, and ants. There are three brands in this division. Despite Scotts Miracle-Gro's international presence, the United States is the most important market for SMG. Read on to learn more.