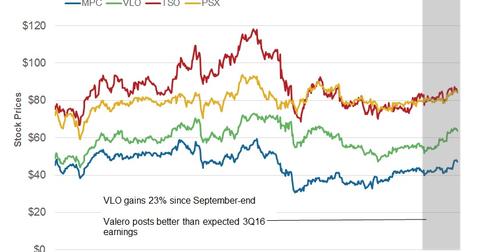 Which Refining Stock Has Risen the Most in 4Q16 So Far?
By Maitali Ramkumar

Updated
Refining stocks' performances since September's end
The stocks of refining companies such as Marathon Petroleum (MPC), Valero Energy (VLO), Tesoro (TSO), and Phillips 66 (PSX) have been putting up volatile performances in 2016. However, these companies' stocks have been performing well since September's end, with VLO leading the race.
Since September 29, 2016, VLO has risen 23%, whereas MPC, TSO, and PSX have risen 18%, 9%, and 6%, respectively. Let's look at these stocks' performances throughout 2016.
Article continues below advertisement
Refining stocks turn volatile in 2016
Refining stocks, which were on an upward spiral for most of 2015, plunged in December 2015. This downward journey halted in February 2016. In February, Marathon Petroleum's regional refining crack indicators started strengthening, Tesoro's refining index values started rising, and Valero's regional crack indicators started improving.
Amid stock price volatility, MPC, VLO, TSO, and PSX rose from February 8, 2016, to April 26, 2016, by 35%, 13%, 18%, and 16%, respectively. For broad-based exposure to the energy sector, you can consider the Energy Select Sector SPDR ETF (XLE).
From April to June
The stocks' strong performances were followed by a volatile crack environment phase. From April's end to June's end, the highest gainer in the previous period, MPC, stood as the highest loser in terms of stock value, falling 20%. Marathon Petroleum also broke below its 50-day moving average in the period.
Article continues below advertisement
From June to August
However, starting at the end of June, refining stocks rose in anticipation of a better refining margin environment. This expectation was due to higher expected demand during the summer season and heavy maintenance activity in the US Gulf Coast.
From June's end to August's end, MPC rose 18%. VLO and TSO rose 7% and 3%, respectively. However, Phillips 66 (PSX) fell 1% in the period.
Series outline
In this series, we'll do a cross-sectional analysis of refining stocks in terms of dividend yield, forward valuation, institutional holdings, short interest, implied volatility, analysts' recommendations, and correlation with WTI.
We'll also venture into a fundamental analysis of the stocks by comparing them in terms of return on equity, leverage, cashflow, and segment-by-segment operating income. We'll also look at the Environmental Protection Agency's final Renewable Fuel Standard (or RFS) for 2017 and the impact the RFS regulation could have on refining throughputs, yields, and margins. We'll conclude the series by looking at refining companies' expected margins in 4Q16.