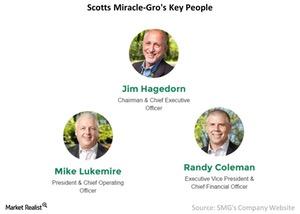 Key People at Scotts Miracle-Gro
By Adam Jones

Dec. 29 2016, Updated 6:07 p.m. ET
Jim Hagedorn
Jim Hagedorn is the current CEO of The Scotts Miracle-Gro Company (SMG). He is the son of Horace Hagedorn, who founded the Miracle-Gro company. When Scotts and Miracle-Gro merged in 1995, Jim Hagedorn joined as a director of the company. Since then, he has served Scotts Miracle-Gro as chief operating officer, president, and chairman of the board.
Article continues below advertisement
Mike Lukemire
Mike Lukemire is the current chief operating officer and president of Scotts Miracle-Gro—a position he has held since March 2016. Mike has also served in the capacity of executive vice president of Business Execution and Global Technologies and Operations. Mike joined the company in May 2008. Mike has also worked with Kraft-General Foods (KHC), Kroger (KR), and Nabisco.
Randy Coleman
Randy Coleman is the current chief financial officer and executive vice president at the company. He joined Scotts Miracle-Gro in 2014. Before that, Randy served as a senior vice president of Global Finance Operations and Enterprise Performance Management Analytics for a fully-owned subsidiary of SMG known as Scotts LLC.
Other people
One of the most renowned personalities in the world of business, Dr. Michael Porter, served as a director from 2013 to 2015 at the company. Dr. Porter has been a professor at the Harvard Business School since 1973. Today, businesses (MOO) around the globe practice many of Dr. Porter's teachings. Dr. Porter is also an independent director at Merrimack Pharmaceuticals (MACK).