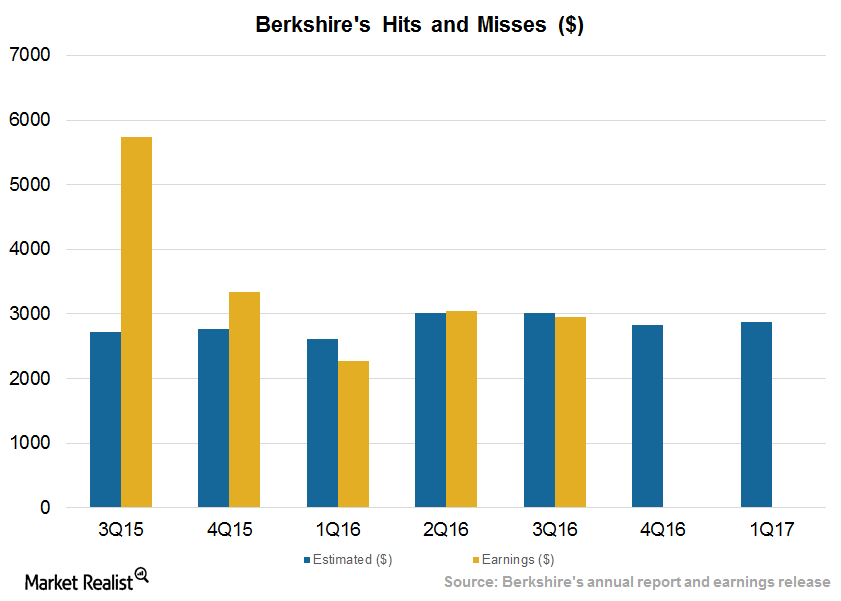 What to Expect from Berkshire Hathaway's Earnings
4Q16 earnings
Berkshire Hathaway (BRK-B) is expected to post EPS (earnings per share) of $2,829 per share in 4Q16 and $2,880 in 1Q17. The estimates have been revised upward by analysts. Markets improved and most of the global concerns—China's slowdown and Europe's slowing growth—are fading. Berkshire posted EPS of $2,951 in 3Q16. It missed analysts' estimates of $3,022. It showed marginal weakness from the insurance and railroad segments. As the macro environment improves, the insurance and railroad segments could see an uptick in the upcoming quarters due to policy changes when Trump becomes president.
Berkshire posted operating earnings of $4.9 billion in 3Q16—compared to $4.6 billion in 3Q15. The earnings were impacted positively by the energy, manufacturing, and services divisions.
Berkshire's book value per share rose to $163,783—compared to $160,009 in the June quarter. The stock rose 4.4% over the past month and 26% over the past year. In comparison, the S&P 500 (SPY) rose 8% over the past month and 12% over the past year.
Berkshire had a record $85 billion in liquidity as of September 30, 2016. The company's new acquisitions like Precision Castparts (PCP) and Duracell contributed towards manufacturing expansion. It has record cash. Warren Buffett can look at more acquisitions in the upcoming quarters.
Article continues below advertisement
Conglomerate
With a market capitalization of more than $406 billion, Berkshire Hathaway is a holding company whose subsidiaries engage in different business activities across sectors. Its subsidiaries operate in several major sectors:
freight rail transportation
insurance and reinsurance
manufacturing
service and retail
finance
utilities and energy
Berkshire's investments are managed primarily by its CEO, Warren Buffett, and its vice chair, Charles Munger. The company competes with asset managers and insurance players (PFF) including major players like AIG (AIG), MetLife (MET), and BlackRock (BLK).
In this series, we'll take a look at the expected performance of Berkshire's divisions, acquisitions, balance sheet, and valuations.