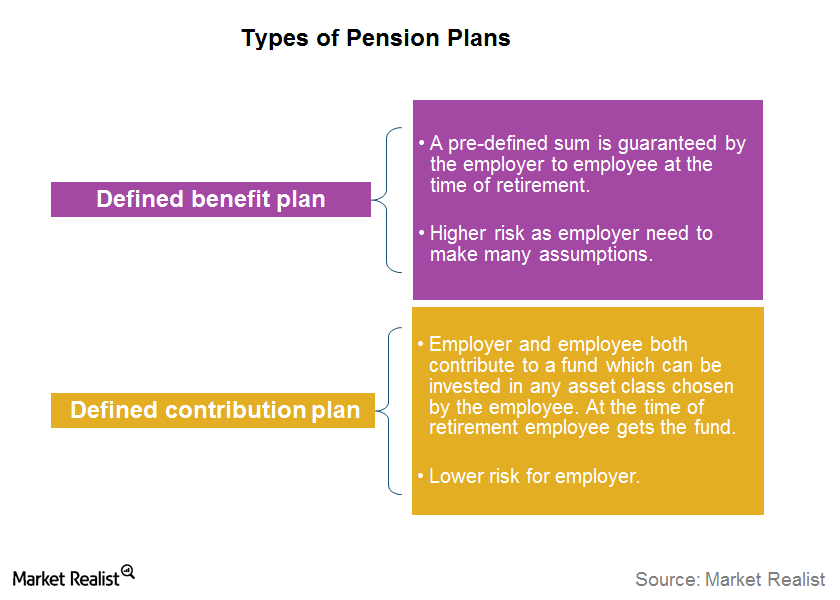 What Different Pension Plans Do Automakers Offer?
By Jitendra Parashar

Dec. 9 2016, Published 10:54 a.m. ET
Automakers and pension obligations
In the previous part of this series, we looked at why it's important for investors to look at automakers' (XLY) pension obligations. Understanding pension obligations and their funded status can give investors a better picture of a company's risk profile. Now, let's take a look at two key types of different pension plans.
Article continues below advertisement
Traditional defined benefit plan
Defined benefit plans are one of the oldest types of post-retirement benefit plans that automakers offer to their employees. Under this plan, automakers guarantee to pay a certain amount to an employee based on factors including the employee's year of service and salary.
To pay the predefined amount when the employee retires, the employer needs to make a few assumptions about the expected return on pension plan assets, compensation growth, tenure, and the discount rate for a pension.
Today, these assumptions are very difficult to make. A defined benefit plan could go against the employer.
General Motors (GM) and Ford (F) still have huge pension obligations under these plans. Other large companies that used to offer defined benefit plans to their employees include General Electric (GE), Boeing (BA), and IBM (IBM).
Defined contribution plan
A defined contribution plan is typically made up of contributions of a fixed amount by both the employer and employee. Under this plan, an employee can choose from various investment options available during the years of employment. The employee gets the same amount including investment returns (if any) at the time of retirement.
Unlike a defined benefit plan, the employer doesn't need to make assumptions for a defined contribution plan. The investment risk in a defined contribution plan lies with the employee. The plan significantly decreases an automaker's risk of going wrong with assumptions. For this reason, automakers including General Motors and Ford have been shifting their new employees to defined contribution plans. We'll look at these companies' current pension obligations in the next part.