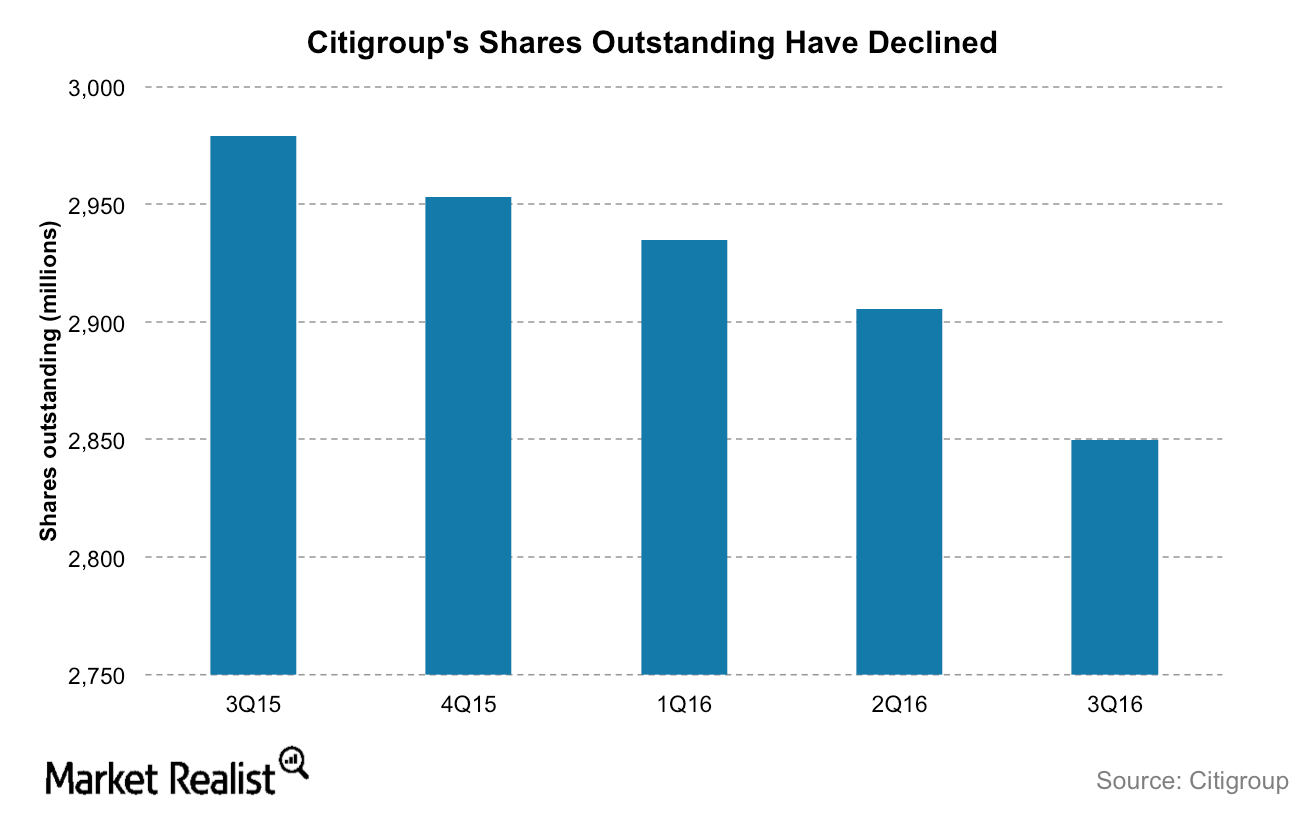 How Did Citigroup Stock Perform in November?
By Rebecca Keats

Dec. 4 2020, Updated 10:53 a.m. ET
Citigroup rose 9% in November
Shares of Citigroup (C) returned 9% during November. Last Monday, Citigroup's share repurchase plans worth $1.75 billion got approval from the Federal Reserve. The new buyback plan is in addition to $8.6 billion worth of buybacks announced in June as well as the bank's dividend of $0.16 per share. The bank also said that it would return a total of $12.2 billion in capital to shareholders by 2Q17 in case it completes all of the announced buybacks and dividend payments.
Article continues below advertisement
Citigroup expects fourth quarter trading revenues to be "meaningfully better" than a year ago. Speaking at an industry conference last week, Citigroup President Jamie Forese said that the bank's (XLF) trading desk was boosted by heightened volatility following Trump's surprising victory in the presidential election.
Rating changes
During the month, Morgan Stanley analyst Betsy Graseck upgraded Citigroup from "equal-weight" to "overweight." She upgraded her target price from $50 to $70. She thinks that investors should buy shares of Citigroup after Trump's victory.
However, Goldman Sachs (GS) analyst Keith Horowitz downgraded Citigroup from "buy" to "neutral" on limited upside potential due to political and interest rate risk. In a note to investors, he highlighted that political uncertainty fuelled bank stocks in the past few quarters. A Trump presidency means downside for these stocks due to his uncertain policies. While many people thinks that Trump's victory is beneficial for the financial sector due to fewer regulations, there's still uncertainty. Despite an 80% chance of a rate hike in December, Horowitz doesn't see much upside for banks. He also downgraded KeyCorp (KEY) and Citizens Financial (CF) for similar reasons.
Macquarie also downgraded Citigroup to "neutral" from "outperform." Macquarie analyst David Konrad thinks that Citigroup's global payments business would be hurt by global events such as the Brexit and Trump's presidential victory. In an investor's note, he said, "We are recommending a shift in exposure within this space to names that have more leverage to capital markets and increased economic activity and away from global banks whose multiples may remain suppressed owing to decreased trade and currency volatility, particularly in the emerging markets." Konrad called Citigroup a "global bank in a populist world."