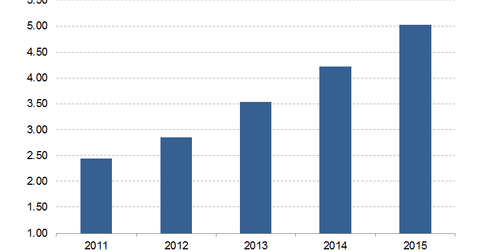 Could Delivery by Drone Cut Costs for Amazon?
By Ruchi Gupta

Updated
First drone delivery carries Fire TV and popcorn
Amazon (AMZN) has begun testing its in-house drone delivery service, with the first delivery by drone happening in a rural pocket of the United Kingdom (EWU). The company said that its maiden drone flight carried a package containing an Amazon Fire TV and popcorn to a farmhouse near Cambridge.
It took 13 minutes to deliver the package by drone over several miles. Amazon hopes to use drones to deliver packages within 30 minutes as it looks toward faster shipments as a competitive advantage. Amazon's drone delivery initiative is called Prime Air.
Article continues below advertisement
Shipping costs soar 43%
Besides impressing customers with faster delivery speeds, investing in drones yields significant cost savings for Amazon. As online shopping has grown popular, the demand for shipping services has risen, and so have the costs. Amazon's shipping costs peaked at $3.9 billion in 3Q16, a 43% rise over the same period a year earlier. Net shipping costs were $5.0 billion in 2015.
As such, the company is betting that an in-house delivery service could help cut its shipping costs, lifting its retail profit margins as a result.
Besides drones, Amazon is acquiring cargo planes to speed up its deliveries and eliminate the costs of hiring third-party delivery service providers such as United Parcel Service (UPS) and FedEx (FDX).
Avoiding delivery delays
The other benefit Amazon sees in bringing shipping services in-house is that it would gain more control over its supply chain, allowing it eliminate the problem of delayed deliveries. The company has suffered delivery delays during festive seasons, sometimes forcing it to compensate the affected customers, introducing unnecessary costs and eating into its bottom line.
However, Amazon's drone delivery program has a long way to go due to regulatory hurdles and the fact that drones can only carry less than five pounds in package weight. Still, drone deliveries may only be limited to rural areas, as they pose limited risk to drone flights.
JD.com (JD) is another retailer that uses drones for deliveries.