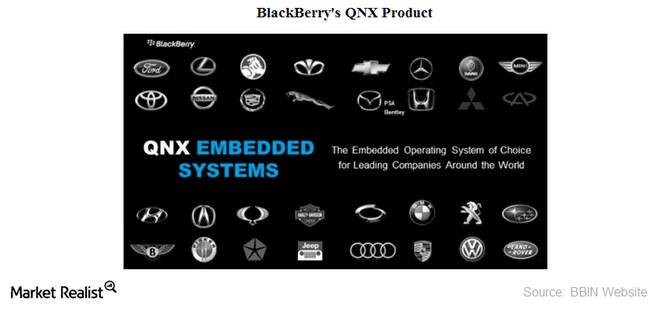 Why BlackBerry Is Eyeing the Auto Car Segment
By Adam Rogers

Dec. 4 2020, Updated 10:53 a.m. ET
BlackBerry to invest $76.0 million to develop software
On December 19, 2016, BlackBerry (BBRY) announced plans to invest $76.0 million (or $100.0 million Canadian) to develop software for driverless cars. BlackBerry said it will hire approximately 600 engineers as it looks to aggressively pivot toward software. The company's employee count stands at 5,000 compared to the all-time high of more than 17,000 in fiscal 2011.
Automatic driving cars need state-of-the-art software to avoid accidents and understand traffic signals and real-time road conditions. BlackBerry said it will set up a hub in the Ottawa, Canada, under its QNX business platform to develop this software.
Article continues below advertisement
QNX platform is important for BlackBerry
QNX is a commercial real-time operating system that resembles Unix. QNX, which BlackBerry acquired in 2010, is aimed at the embedded systems market. QNX has a footprint in the automotive segment, which gives BlackBerry a competitive edge in the connected car space.
At the Consumer Electronics Show earlier this year, BlackBerry announced a new QNX software platform for ADAS (advanced driver assistance systems) and automated driving.
Hama was BlackBerry's first paying customer in its Connected Car segment in fiscal 2Q17. In 2015, BlackBerry signed a deal with Intel (INTC), which chose QNX for its smart car initiative. It also partnered with Texas Instruments (TXN) and Nvidia (NVDA) to develop solutions for ADAS.
Apple (AAPL) CarPlay and Google (GOOG) Android Auto also opted for QNX software last year, which was another big win for BlackBerry. According to a report from the Wall Street Journal, QNX software is used in more than 60.0 million cars, including the ones manufactured by Ford (F) and General Motors (GM).
TD Securities analyst Daniel Chan believes that revenue from QNX has been growing at double-digit rates in the last few quarters.