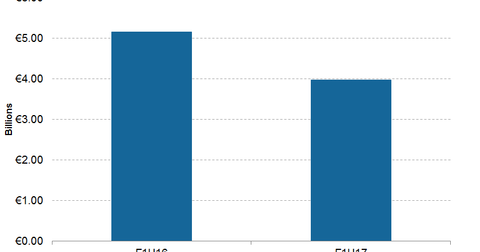 Inside Vodafone's Free Cash Flow and Capex Plans
By Ambrish Shah

Updated
Vodafone's capital expenditure
The telecommunication services space is a highly competitive industry, with multiple operators offering similar, if not the same, voice, data, and video offerings. Given the limited opportunities to expand organic margins, emphasis on strategic services, product innovation, and expansion often require increased capital expenditure or capex.
Let's take a closer look at Vodafone Group's (VOD) efforts to improve its network quality and coverage through continued capex investments.
In fiscal 1H17, Vodafone spent just under 4 billion euros (about $4.18 billion) on capex, down from 5.1 billion euros (about $5.33 billion) in fiscal 1H16. This capex came down after the completion of Project Spring.
Article continues below advertisement
During fiscal 1H17, Vodafone purchased spectrum in India (EPI) by spending 2.7 billion euros (about $2.82 billion) in an auction to execute its 4G plans. Meanwhile, in Europe, Vodafone continued to invest in 4G densification and mobile backhaul. Vodafone expects its capital intensity (% of revenue) to be in the mid-teen range in fiscal 2017.
Expected capex investments
By comparison, in calendar 2016, competitor Verizon Communications (VZ) expects capex to come in at the low end of its $17.2 billion–$17.7 billion forecast range, mainly due to project delays caused by the union strike. AT&T (T) is expected to spend approximately $22 billion on capex this year.
In fiscal 1H17, Vodafone reported an increase in free cash flow of 0.8 billion euros (about $0.84 billion) over fiscal 1H16, driven by higher operating free cash flow. Vodafone expects its free cash flow to reach ~4 billion euros (about $4.18 billion) in fiscal 2017, excluding the impact from restructuring costs, mergers and acquisitions, and buying spectrums during the period.