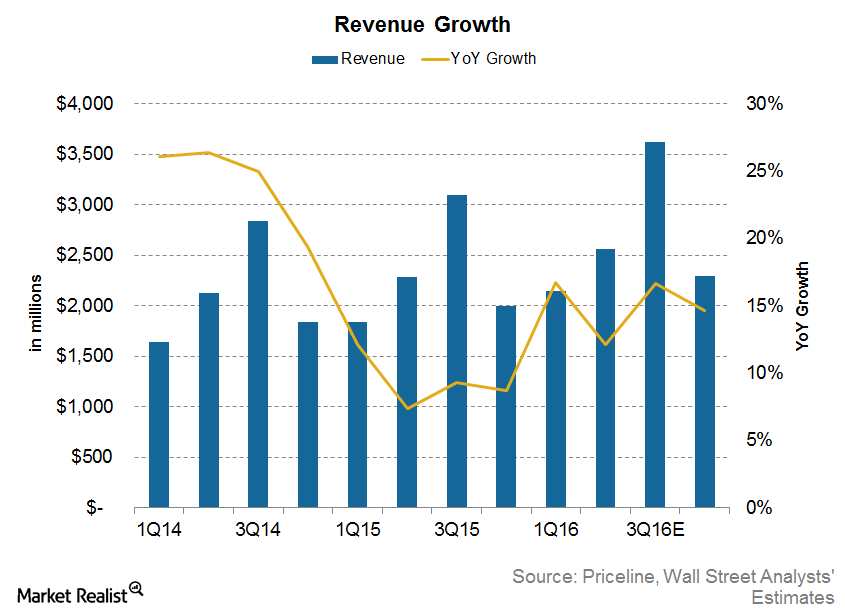 Will Market Share Gains Continue to Drive Priceline's Revenue Growth in 2016?
Analyst estimates
For 3Q16, analysts are estimating Priceline Group's (PCLN) revenues to grow by 16.6%, which would be higher than the 12% growth the company saw in the second quarter. But as we know, 2Q16 was impacted by uncertainties surrounding the UK's Brexit referendum and the terrorist attacks in Europe. For 2Q16, Priceline's management expects revenue growth of 7%–14%.
Analysts expect Priceline's revenues to grow 14.7% in 4Q16, which would mean full-year revenue growth of 14.9% for 2016—higher than in 2015. Revenue growth is expected to stay at 15% for 2017 and then to fall to 9% in 2018.
Article continues below advertisement
Being global: boon and bane
Remember, growth in the travel industry is here to stay. As income levels improve and people seek to get out of their comfort zones and seek new experiences, more people are expected to travel.
Priceline derives 12% of its gross bookings from the US, and the rest comes from international markets, which is great news for growth. While the US travel market is highly mature and has little growth prospects, international travel is growing exponentially and this should bode well for Priceline. By comparison, rivals Expedia (EXPE), TripAdvisor (TRIP), and Ctrip.com International (CTRP) have limited exposure to Europe.
But wide international exposure comes with increased risks as well. In 2Q16, for example, the UK's Brexit referendum caused travel in Europe to fall off. (For a detailed analysis, check out the Market Realist's series Brexit: Will There Be Turbulence in the Travel and Tourism Industry?)
Emerging markets are key
In particular, emerging markets like China, India, and Brazil are expected to be key growth markets for the travel industry. China's online travel market grew by 50% in 2015, and this growth is expected to continue in double digits, reaching $75 billion by 2017.
Notably, PCLN makes up ~6.9% of the holdings of the DWA Consumer Cyclicals Momentum (PEZ).
In the next part, we'll discuss what's happening with Priceline's "Name Your Own Price" feature.