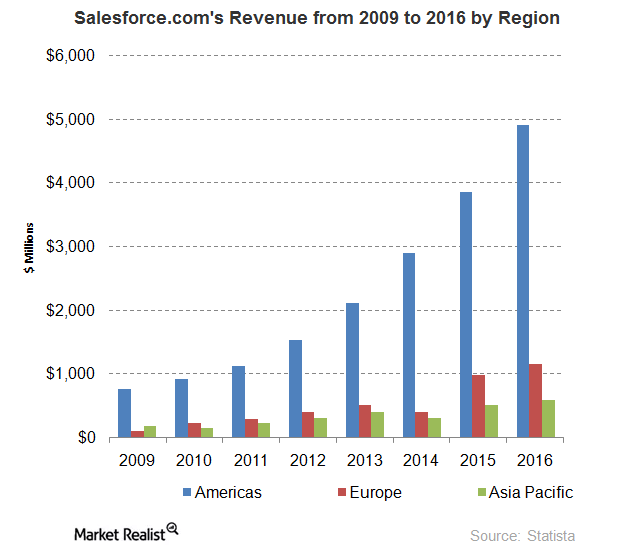 What Trump's Victory Could Mean for Salesforce
Trump's exclusionist policies: good or bad for US businesses?
Previously, Salesforce (CRM) Chief Executive Officer Marc Benioff showed his support for Democratic nominee Hillary Clinton in 2016. Defying the pre-poll results—which were largely in favor of Hillary Clinton's win—Donald Trump won the election and will likely be the 45th President of the United States on January 20, 2017.
In his election campaign, Trump voiced his views on immigration and taxation. Apart from his anti-immigration policy, Trump has planned a reduction in the current tax structure, and both immigration and taxation impact the IT sector—especially software sector. Trump intends to lower the business tax rate from the current 35% to 15% and to remove the corporate alternative minimum tax.

Article continues below advertisement
Companies that derive the majority of their revenues from the US will be the biggest beneficiaries of this tax revolution, and Salesforce is one such company. Although Salesforce has increased its investments in Europe (EFA) and Asia to expand its footprint in the regions, the Americas will continue to dominate its overall revenues.
By comparison, peers Microsoft (MSFT), IBM (IBM), and Oracle (ORCL) generate substantial portions of their revenue from overseas markets.
Salesforce's dependence on the US for revenues
The company's dependence on the US for its majority of revenues will also shield it from short-term currency movements, especially the US dollar (UUP). Notably, Trump has stated that US interest rates are "artificially low."
Now that Trump has been elected, it's very likely that he'll push for higher interest rates, thereby strengthening the US dollar—at least, in the short term. But in the long run, if the national debt increases under Trump, the US dollar will likely come under pressure.
According to thestreet.com, Salesforce converts its European revenue to the UK pound (EWU). Thus, it would be wrong to say that Salesforce would be totally unaffected by short-term currency movements, given its increased focus on Europe.