What RBC Capital Thinks of Harley-Davidson
Harley-Davidson (HOG) has a market cap of $10.4 billion. It fell 1.2% to close at $58.29 per share on November 15, 2016.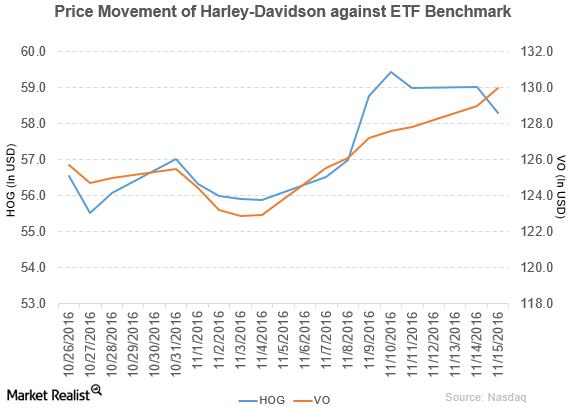 Price movement
Harley-Davidson (HOG) has a market cap of $10.4 billion. It fell 1.2% to close at $58.29 per share on November 15, 2016. The stock's weekly, monthly, and year-to-date (or YTD) price movements were 2.3%, 17.3%, and 31.5%, respectively, on the same day.
HOG is trading 2.8% above its 20-day moving average, 9.1% above its 50-day moving average, and 20.2% above its 200-day moving average.
Article continues below advertisement
Article continues below advertisement
Related ETF and peers
The Vanguard Mid-Cap ETF (VO) invests 0.27% of its holdings in Harley-Davidson. VO tracks the CRSP US Mid-Cap Index—a diversified index of mid-cap US companies. VO's YTD price movement was 9.4% on November 15.
The market caps of Harley-Davidson's competitors are as follows:
HOG's rating
On November 15, 2016, RBC Capital Markets upgraded Harley-Davidson's rating to "sector perform" from "underperform." It also increased the stock's price target from $46 to $57 per share.
TheStreet reported, "RBC said the stock could reach as high as $62 if Harley-Davidson improves its top-line growth figures and operating income margins in 2017."
The report quoted PBC Capital Markets analyst Joseph Spak, who stated, "Near-term, if the economy is stimulated and construction jobs increase, Harley-Davidson could see some better demand."
The report continued, "However, RBC still remains cautious of the market for high-end motorcycles, which, as a leisure good, are particularly sensitive to the economic cycle."
Article continues below advertisement
Performance of Harley-Davidson in 3Q16
Harley-Davidson (HOG) reported 3Q16 Motorcycle and Related Products revenue of $1.09 billion, a fall of 4.4% from the $1.14 billion reported in 3Q15. The company reported motorcycle shipments of 48,611 units in 3Q16, a fall of 9.1% from 3Q15.
The company's retail sales in the Americas region fell 6.6%, and retail sales in the EMEA (Europe, the Middle East, and Africa) and Asia-Pacific regions rose 2.0% and 1.7%, respectively, between 3Q15 and 3Q16. The company's gross profit and operating margins of Motorcycle and Related Products fell 100 basis points and 260 basis points, respectively.
The company's Financial Services revenue rose to $183.2 million in fiscal 3Q16, a rise of 3.4% over 3Q15. Its net income and EPS (earnings per share) fell to $114.1 million and $0.64, respectively, in 3Q16, compared with $140.3 million and $0.69, respectively, in 3Q15.
Harley-Davidson's cash and cash equivalents and finance receivables rose 9.4% and 7.4%, respectively, and its inventories fell 27.2% between 4Q15 and 3Q16. Its current ratio rose to 1.6x, and its long-term debt-to-equity ratio fell to 2.60x in fiscal 3Q16, compared with 1.4x and 2.63x, respectively, in fiscal 4Q15.
Projections
Harley-Davidson (HOG) has made the following projections for fiscal 2016:
to ship 264,000–269,000 motorcycles, a growth of -1% to 1% over 2015
operating margin in the range of ~15%–16% for the Motorcycles segment
capital expenditure in the range of $255 million–$275 million
effective tax rate of ~33%
In fiscal 4Q16, the company expects to ship 44,200–49,200 motorcycles. Next, we'll look at Harman International Industries (HAR).