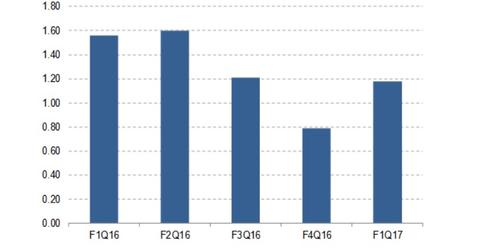 Did Western Digital Make a Blunder with Its SanDisk Acquisition?
By Ruchi Gupta

Nov. 2 2016, Published 2:31 p.m. ET
WDC swings to loss
Western Digital's (WDC) fiscal 1Q17 results showed how its $19 billion acquisition of SSD (solid-state drive) specialist SanDisk led it to a quarterly loss.
Western Digital saw EPS (earning per share) of -$1.28 in the quarter, compared to its EPS of $1.21 in the same period last year. The company's management said that the loss came as the result of charges related to the SanDisk acquisition. What happened to the promise that SanDisk would help bolster the company's financial performance?
When Western Digital acquired SanDisk, it said that the move would expand its portfolio of storage products, allowing it to gain share in the global storage market. Though this promise remains valid, swallowing SanDisk seems to have caused near-term adverse effects to Western Digital's bottom line.
Article continues below advertisement
Excluding acquisition charges, Western Digital's fiscal 1Q17 EPS easily beat analysts' consensus estimate. The company posted adjusted EPS of $1.18, compared to the consensus estimate of $1.05. Its revenue of $4.7 billion in the quarter reflected a rise of 40% year-over-year (or YoY), topping the consensus estimate of $4.5 billion.
These results also surpassed internal guidance that called for adjusted EPS in the range of $1–$1.05 and revenue of $4.5 billion–$4.6 billion.
A bright future
The chart above shows Western Digital's adjusted EPS in the five quarters leading up to fiscal 1Q17.
The future looks bright for Western Digital with SanDisk in its portfolio, despite the company's near-term bottom line pressures. The amount of data being churned out is rapidly increasing, thanks in part to the Internet of Things and cloud computing. This rapid increase suggests that there will always be demand for large and advanced storage products.
The acquisition of SanDisk has expanded Western Digital's product mix and added key memory technology to its portfolio, allowing it to take advantage of the rising demand for storage solutions.
In the storage market, Western Digital battles for market share with Seagate (STX), Pure Storage (PSTG), and International Business Machines (IBM).