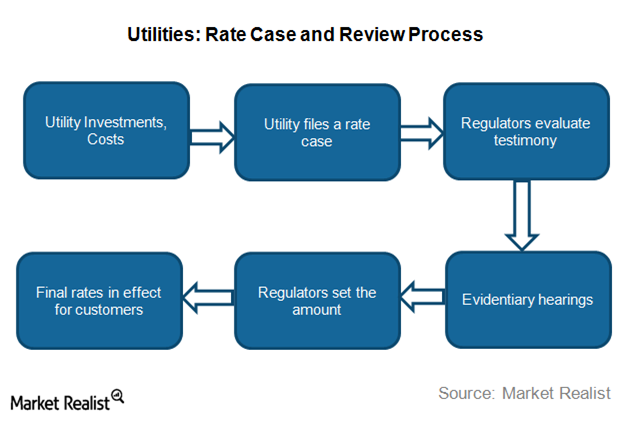 A Look at Utilities' Rate Cases and the Review Process
Utilities' business model
The utilities industry is a relatively stable one, as the demand for electricity, water, and gas—basic business and consumer needs—is less influenced by economic cycles than other industries. This stability in demand is the main strength for utilities.
Although a utility company can file for bankruptcy protection, as Pacific Gas & Electric (PCG) did in 2001, they typically don't go out of business and can earn a relatively stable income. Earnings stability and predictability facilitates stable dividend payments to shareholders.
Article continues below advertisement
How do utilities earn revenues?
Utilities file total revenue requirements for future period with regulators, which is commonly called a rate case. This includes the level of funds that a utility must have to cover its costs and a specific percentage of profit allowed by regulators.
The time difference between utility's investments and rate recovery is the regulatory lag. Leading utility Xcel Energy (XEL) has been filing multiyear rate cases to minimize regulatory lag from the last few quarters.
According to a recent report released by Accenture, from 1997 to 2002, US utilities (XLU) filed an average of five rate cases per quarter with state regulators. However, from 2007 to 2015, this number increased to 13. Accenture believes that the utilities' increased focus on regulated operations has led to the increase.
Global demand
According to the EIA (Energy Information Administration), higher population and growing electrification is expected to trigger electricity demand. As a result, an additional generation of more than 40% of existing capacity may be needed globally by 2020. This increased capacity requirement may drive increased investment throughout the power supply chain from generation to distribution.