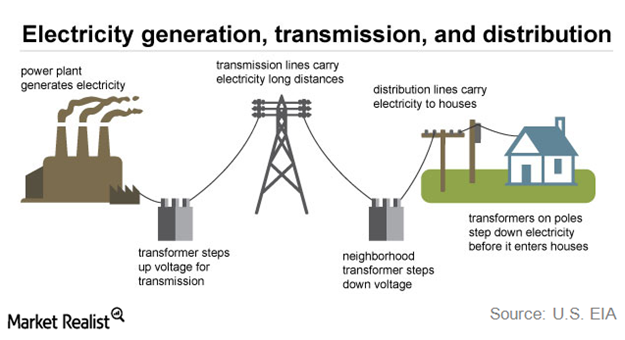 Utilities Overview: How Does the Electricity Supply Chain Work?
Electric utility operations
The US electric utility industry is a mature business that is growing slowly and steadily. According to the U.S. Energy Information Administration (or EIA), the country's total electric grid consists of 7,300 power plants and 160,000 miles of high-voltage power lines that deliver electricity to more than 145 million customers.
Electricity is generated at the power plant and flows through the transmission grid before reaching the end users. The following graphic illustrates the flow of electricity from the power plant to the consumer.
Article continues below advertisement
Breaking down the electricity supply chain
Power generation: Electricity is generated in a power plant using primary energy sources such as fossil fuels, nuclear, and renewables. Power generators must adjust the demand and supply of power because the storage of power is still economically unviable.
Transmission: Once produced, power flows over long distances through the transmission network at high voltages before reaching the end user. Grid operators may sell transmission access to the retail service providers.
It isn't cost-efficient to store electricity, which must be transferred as soon as it's generated. Any fluctuation in demand must be immediately matched with the power supply.
Distribution: This final phase of the electricity supply chain facilitates the power transfer from the grid to the end user's meter at reduced, usable voltage levels.
Power generation accounts for nearly two-thirds of the total cost of power production. Transmission and distribution account for the rest of the total cost.
Duke Energy (DUK) and Southern Company (SO) are among the largest power producers by generation in the US. The Utilities Select Sector SPDR ETF (XLU) invests ~8% in each of these utilities.