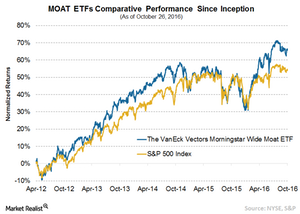 How to Take On Exposure to 'Moativated' Stocks
By VanEck

Dec. 4 2020, Updated 10:53 a.m. ET
VanEck VectorsTM Morningstar Wide Moat ETF (MOAT) is the only U.S. ETF that seeks to track the Morningstar® Wide Moat Focus IndexSM (the "Index"), a benchmark that combines Morningstar's measure of quality with their valuation framework. The Index's approach to identifying U.S. companies with wide economic moats that are attractively priced has resulted in long-term outperformance versus the broader U.S. equity market, and provided a unique way for investors to invest in quality companies.
Article continues below advertisement
Market Realist – The VanEck Vectors Morningstar Wide Moat ETF
The VanEck Vectors Morningstar Wide Moat ETF tracks the price and yield performance of the Morningstar Wide Moat Focus Index. The Index comprises US-based wide-moats stocks trading at a discount to their intrinsic value, as determined by Morningstar's proprietary research methodology.
Market Realist – Sector weightings
As of September 30, 2016, the MOAT ETF comprised 43 stocks. MOAT is heavily tilted toward healthcare and the consumer discretionary sector, which together account for around 49.1% of the portfolio. The financial sector comprised 14.8% of the total portfolio, followed by industrials at 14%, information technology at 12.6%, and materials at 4.8%.
Market Realist – Top ten holdings
The MOAT ETF has some of the top moat companies in its portfolio. As of September 30, 2016, the ETF has the highest exposure to Biogen (BIIB) at 2.83%, followed by Amazon (AMZN) at 2.78%, Tiffany (TIF) at 2.77%, Varian Medical Systems (VAR) at 2.75%, and CSX Corp. (CSX) at 2.74%.
Since moat companies have a sustainable competitive advantages over their competitors, they generate higher returns over a longer period than the benchmark. Since its inception in April 2012, the VanEck Vectors Morningstar Wide Moat ETF offered a return of 65.7% as of October 26, 2016, compared to 53.8% for the S&P 500 Index.