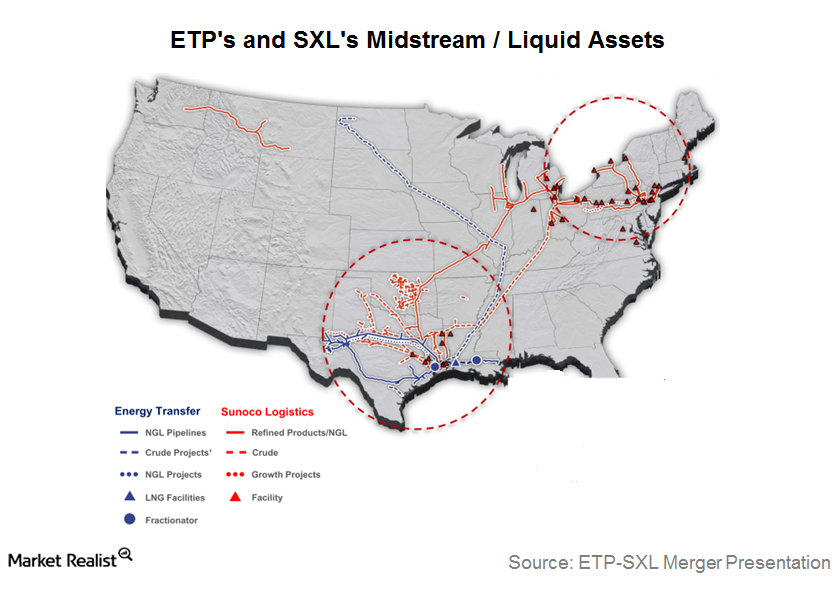 How Sunoco Logistics Could Benefit from Liquids Integration
Appalachian region
In this article, we'll look at the commercial synergies from the proposed merger between Sunoco Logistics Partners (SXL) and Energy Transfer Partners (ETP) in the Appalachian, Gulf Coast, and Permian regions. Let's begin with the Appalachian Basin.
SXL has remained bullish on its NGL (natural gas liquids) growth story, which has been supported by strong NGL supply growth from the liquids-rich Marcellus and Utica Shale plays and higher NGL demand. After the merger with Energy Transfer Partners, the partnerships expect to benefit from Liquid Integration opportunities mainly in the Appalachian and the Gulf Coast regions.
Article continues below advertisement
Article continues below advertisement
According to the merger presentation, there is an "opportunity to connect ETP's Revolution system to SXL's Mariner East system to move additional NGL volumes out of the Marcellus/Utica." SXL's Mariner East projects provide a significant takeaway capacity to move NGLs from Marcellus and Utica areas to the Marcus Hook Industrial Complex, where the NGLs can be processed, stored and distributed to various local, domestic, and waterborne markets.
ETP's revolution system include a gathering pipeline, processing plant, an NGL (natural gas liquids) pipeline, and a fractionation facility in Pennsylvania. The project is worth $1.5 billion and is expected to come online in 4Q17
The Gulf Coast region
Energy Transfer Partners' Lone Star fractionation system in Mont Belvieu, when combination with Sunoco Logistics' Nederland terminal, is expected to "provide opportunities for multiple growth projects" including export of Lone Star fractionated products from Nederland terminal.
ETP has placed four fractionators in Mont Belvieu to date. The partnership is planning three additional fractionators in the region, resulting in a total potential frac capacity of 800,000 bpd (barrels per day).
The Permian
ETP and SXL expect to fill their underutilized capacity in the region. The ETP-SXL merger presentation noted that "ETP's gathering system is very synergistic with SXL's recently acquired Midland crude oil platform."