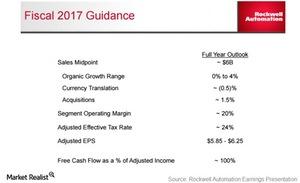 After 3 Years, Rockwell Could See Sales Growth in Fiscal 2017
Rockwell Automation's sales outlook for fiscal 2017
Rockwell Automation (ROK) maintains that oil prices have recovered since the beginning of 2016, and most of its business in the heavy industries end market is expected to stabilize. The company has based its sales projections on higher expected global GDP and industrial production growth rates in 2017.
In fiscal 2017, Rockwell expects its sales to rise 2% organically, and it expects its acquisitions to add another 1.5% to its sales. In terms of geographies, the company has stated that except for Latin America, which could do better, organic growth in other regions is likely to be between 0% and 4%.
In the heavy industry verticals, the company has stated that it expects comparisons to ease in the oil and gas business by fiscal 1Q17 and in the mining (PICK) business by fiscal 2Q17.
Including the assumption of a 50-basis-point headwind on currency, ROK expects sales to around $6 billion in fiscal 2017. The company witnessed consecutive sales falls from fiscal 2014's $6.6 billion to fiscal 2016's $5.9 billion.
Article continues below advertisement
Rockwell Automation's EPS guidance
Rockwell Automation expects its adjusted earnings per share (or EPS) to fall in the $5.85–$6.25 range in fiscal 2017 with 100% conversion of adjusted net income to free cash flow. This guidance is based on segment operating margins of ~20% and an effective tax rate of ~24%.
The company has stated that compared to fiscal 2016, it expects to face a $0.25 headwind from incentive compensation–related expenses and $0.05 cents each from operating pension expenses, currency, and tax rates in fiscal 2017.
Rockwell also expects a $0.15 tailwind to its share count in the year due to its ongoing share repurchases. Its core organic sales growth is expected to yield a $0.35 return over fiscal 2016.