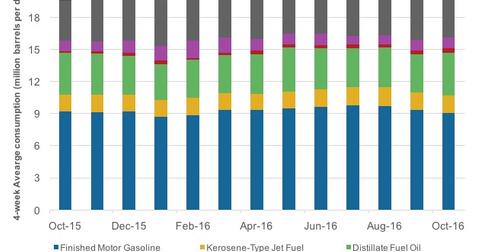 Refined Products in the US: Which Product Is Consumed Most?
By Maitali Ramkumar

Updated
Demand for refined products in the US
Of the total demand for refined products in the US, the highest demand is for gasoline. Of the total consumption of 20.2 MMbpd (million barrels per day), in October 2016, gasoline accounts for around 9.1 MMbpd. Distillate fuel oil accounts for 4.1 MMbpd of the total.
Together, gasoline and distillate fuel oil account for around 65% of total consumption of refined products in the US. Remember, these are valuable refined products that fuel the transport, industrial, and residential needs of the country. Notably, the manufacturing and industrial sectors are the primary growth drivers for distillate fuel in the US.
Article continues below advertisement
Demand growth rates for refined products
Any increase in demand for these products is dependent on numerous factors like refined product prices, economic growth rate, and seasons. But the prices of refined products do have a key impact on their growth rates as well. Last year, lower gasoline prices at gas stations drove higher demand for gasoline. From October 2014 to October 2015, gasoline demand rose by 2.5% to 9.2 MMbpd.
However, with spikes in gasoline prices from October 2015 to October 2016, demand for gasoline has declined. During that period, gasoline consumption dropped by 1.2% to 9.1 MMbpd.
The supply of refined products in the country comes from pure downstream companies as well as from integrated energy companies like ExxonMobil (XOM) and Chevron (CVX). Phillips 66 (PSX) produced ~1 MMbpd of gasoline and ~0.6 MMbpd of distillates from its US operations from October 2015 to September 2016. Similarly, Tesoro (TSO) produced around 0.5 MMbpd of gasoline and 0.2 MMbpd of distillates in the same period.
Demand for other petroleum products
The demand for jet fuel constitutes 8% of the total refined product demand. Jet fuel demand, which is propelled by any increase in air passenger traffic, rose 5.7% from October 2015 to 1.7 MMbpd in October 2016, however.
Notably, the iShares Global Energy ETF (IXC) has ~8% exposure to refining sector stocks.