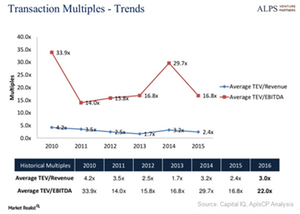 Qualcomm Got a Good Bargain at $110 per NXP Share
By Puja Tayal

Nov. 3 2016, Updated 1:04 p.m. ET
Qualcomm, NXP shares respond to acquisition news 
Qualcomm (QCOM) has agreed to acquire NXP Semiconductors (NXPI) in an all-cash deal worth $110 per share. It expects to expand its total addressable market by about 40.0% to $138 billion by 2020. Qualcomm shares rose 4.1% when the deal was announced, and NXP shares rose 1.7%.
It is a rare phenomenon when an acquirer's shares rise more than the shares of the acquired. The reason Qualcomm shares rose more is because Qualcomm got a reasonable deal at $110, and NXP could have gotten a higher price.
Article continues below advertisement
What did analysts expect the deal price to be?
Before the deal was signed, Wall Street analysts were expecting a price of $120–$150 per NXP share. Bloomberg analysts were expecting the companies to arrive at a middle ground of $115 per share. Both these prices would have justified a premium over NXP's record high price of $112.25 that it reached in May 2015 when the Freescale Semiconductor acquisition was announced.
If we look from another angle, the $47.0 billion deal values NXP at about 13x its forward EBITDA (earnings before interest, tax, depreciation, and amortization). That's lower than the semiconductor M&A (merger and acquisition) average enterprise value to EBITDA of 16.8x. The recent $13.0 billion Analog Devices (ADI)–Linear Technology (LLTC) merger valued LLTC at 18x its forward EBITDA.
Why did NXP agree to $110?
If NXP was also valued at 18x forward EBITDA, the acquisition would have cost $160 per share, and it would have become unaffordable for anyone in the industry.
Even a $115 per NXP share would have been a good deal for Qualcomm, but NXP still agreed on $110. This could likely be due to the absence of counteroffers from potential suitors such as Texas Instruments (TXN). Moreover, Qualcomm offered an all-cash deal, which other potential suitors wouldn't have offered.
Another possible reason could be increasing shareholder value. NXP stock has fallen 27.0% since it last peaked in May 2015. The NXP-Freescale integration will bring strong growth prospects to automotive computing, but it will take a few years to materialize. In the meantime, earnings growth remains slow.
Qualcomm's good timing helped it get an attractive price for NXP. The NXP acquisition looked like an exit strategy and raised doubts about its long-term growth projections. So the share price of the two companies reacted with different intensity.
Next, we'll see why the acquisition is important for both companies.