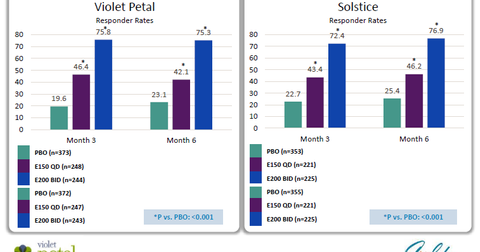 Phase 3 Trials Show Elagolix's Efficacy for Endometriosis Pain
By Margaret Patrick

Updated
Endometriosis Pain
AbbVie (ABBV) and Neurocrine Biosciences (NBIX) have completed two phase 3 trials—the Violet Petal study and the Solstice study—to evaluate the efficacy and safety of Elagolix. These trials evaluated Elagolix as a treatment option for reducing pain associated with endometriosis as compared to a placebo.
AbbVie's R&D Day transcript notes, "The primary endpoint for these studies is pain at menses – a change from baseline in pain associated with menses or dysmenorrhea." In both trials, two dosages of Elagolix were studied, which involved one dosage of 150 mg daily or two doses of 200 mg daily, after three months as well as after six months.
Article continues below advertisement
Clinical trial results
The above diagram shows the response rates for primary endpoint was close to 45% for lower dosages of Elagolix. For higher dosages, the response rate was ~75%. These responses were similar after the three-month and six-month timeframes.
For the secondary endpoint of nonmenstrual pelvic pain, the response rate was ~50% for a lower dosage and ~60% for a higher dosage of the drug in the two pivotal phase 3 trials. Hence, Elagolix has reported statistically significant positive results in both trials.
With Elagolix, AbbVie expects to make inroads in the underserved women's health segment ahead of peers such as Merck (MRK) and Sanofi (SNY).
A decrease in bone mineral density was observed as a side effect of Elagolix, with the intensity of the side effect increasing with drug dosage. Hormone add-back therapy and other treatment options are currently being evaluated to prevent this side effect and ensure bone protection for women.
If Elagolix is approved by regulatory authorities for endometriosis pain, it may boost AbbVie stock as well as the iShares S&P 500 Growth ETF (IVW). AbbVie makes up ~0.56% of IVW's total portfolio holdings.
In the final article in this series, we'll analyze results from phase 2 clinical trials evaluating Elagolix as a therapy for uterine fibroids.