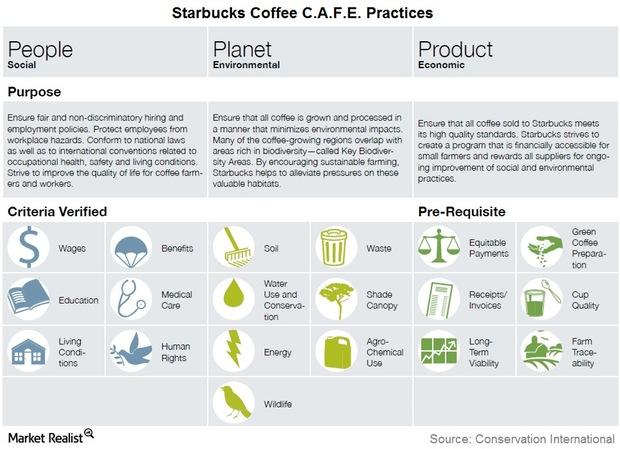 How Starbucks Brews Up Sustainable Products
A sustainable coffee effort
In the previous article, we looked at industry-level and investment-level examples of how things have been on the sustainable investment front and the developments that are helping certain industries. In this article, we'll look at a company-level example by way of Starbucks (SBUX).
Starbucks employs sustainability standards called C.A.F.E. (Coffee and Farmer Equity), which have been developed along with Conservation International. C.A.F.E. has helped Starbucks to create a long-term supply of high-quality coffee while also helping coffee farmers. Let's take a look at a snapshot of C.A.F.E.'s standards.
With the application of C.A.F.E. practices, sustainable coffee, which formed 81% of all coffee purchases in 2009, rose to 99% in 2015. In 2015, Starbucks purchased 551 million pounds of coffee.
Article continues below advertisement
Sustainable bonds
Starbucks issued sustainable bonds worth $500 million earlier this year. These senior notes were issued for ten years and carried a coupon of 2.5%. The money raised from these bonds will carry the objectives of C.A.F.E. forward.
This sustainability bond is different from a green bond. While the latter is focused on the environment, the former is used to fund projects that have social impacts. According to Bloomberg data, 21 sustainability bonds amounting to $4.6 billion have been issued since 2012, including the Starbucks issue. Starbucks' chief financial officer, Scott Maw, informed Bloomberg that $50 million from the above-mentioned bond issue would go into a loan program that helps farmers rotate crops and to funding a network of eight farmer support centers.
Sustainable companies have also brewed up acquisitions, especially in the consumer sector. While Danone (DANOY) lapped up The WhiteWave Foods Company (WWAV) in July 2016, Pinnacle Foods (PF) acquired Boulder Brands in 4Q15, and Snyder's-Lance (LNCE) purchased Diamond Foods in 4Q15.
After having looked at ESG (environmental, social, and governance) criteria for industries, pension funds, and Starbucks, let's move on to the funds that can help you invest socially responsibly.