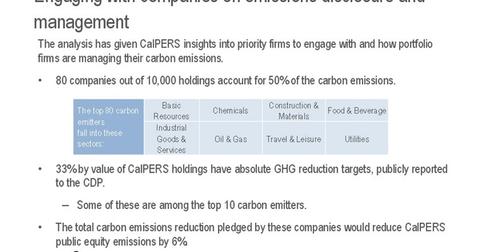 How Pension Funds Have Been Drawn to ESG
By David Ashworth

Nov. 1 2016, Updated 4:04 p.m. ET
ESG criteria not in the realm of obscurity
Though it might seem that considering environmental impacts while making investments is an oddity that arouses the interest of a niche group of investors, this assumption is incorrect. Pension funds, heavyweights in the markets in which they participate, have taken interest in ESG issues when investing.
A prominent example is CalPERS (California Public Employees' Retirement System). CalPERS, the largest US pension fund, is focusing on those companies that have large shares of its carbon footprint. According to information provided by Bloomberg, CalPERS in engaging with companies such as Occidental Petroleum (OXY) and NRG Energy (NRG), among several others, for disclosure on climate change.
On the environmental front, CalPERS' website lists its priorities as:
Article continues below advertisement
"Asking the world's largest energy companies to look at their environmental risk assumptions."
"Making sure the Boards of companies we invest in are paying close attention to the risks and opportunities of climate change."
"Working with leaders across the globe at the UN Climate Summit to create an agreement that aims to protect us from the effects of climate change."
In 2014, CalPERS signed the Montreal Carbon Pledge, committing to measure and publicly disclose the carbon footprint of its investment portfolio.
Other criteria
Apart from environmental criteria, CalPERS also looks at social issues, especially in emerging markets, and it has an Investment Policy for Responsible Contractor Program for investments in the real estate and infrastructure sector (GRID).
Fiona Reynolds, managing director of the PRI (Principles for Responsible Investment), told Bloomberg, "Pension funds are facing particular pressure to act following the Paris Agreement in December that set a framework for more than 195 countries to rein in greenhouse gas emissions."
With pension funds seriously considering and investing according to ESG criteria, sustainable investing has become part of the mainstream, furthering its importance. ETFs (FLAG) (CATH) are helping socially responsible investments in a big way.
In the next article, let's take a look at an example of how companies have undertaken measures to help them adopt sustainable business practices.