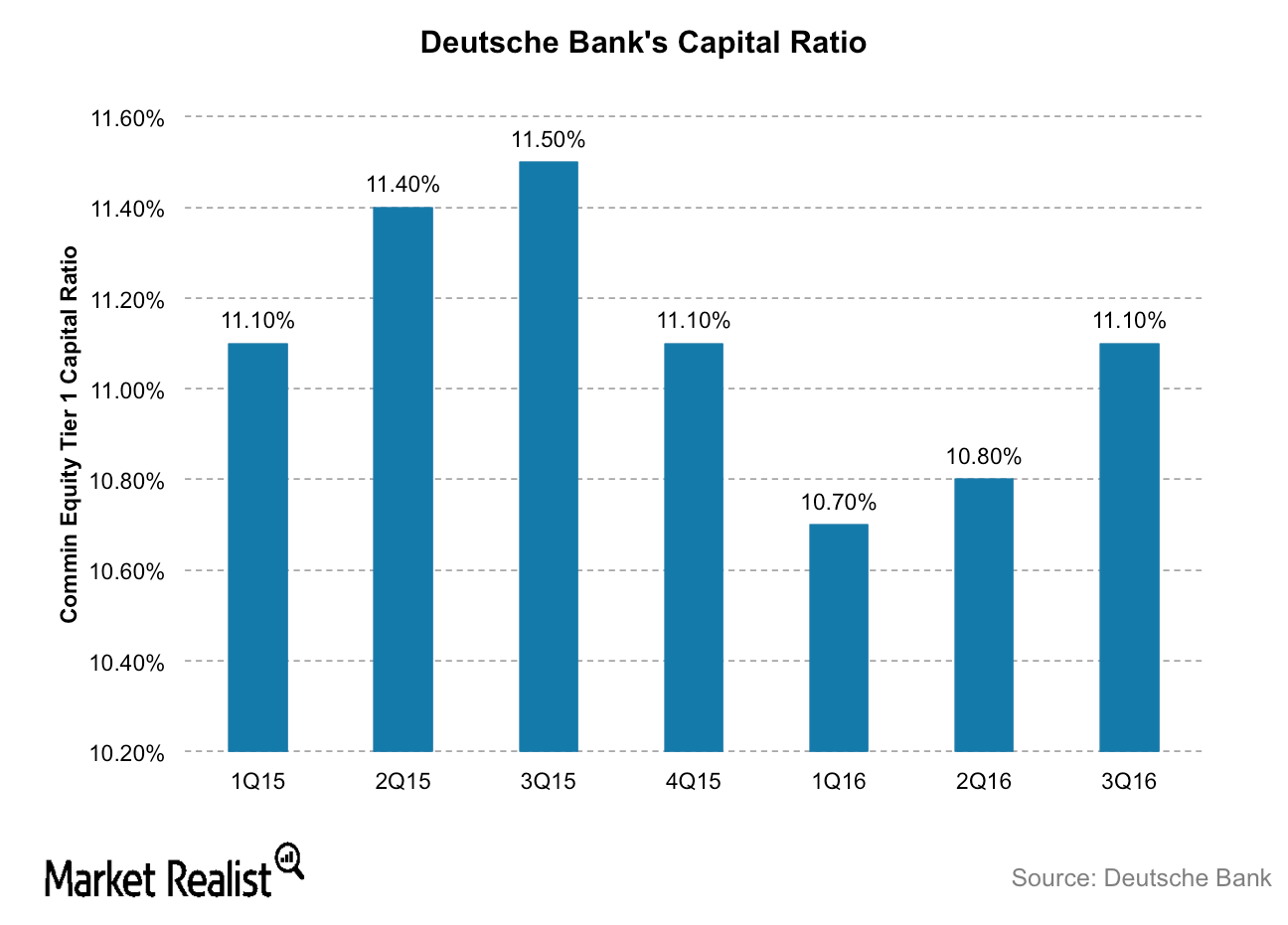 Deutsche Bank's Capital Levels Struggle to Meet Regulatory Requirements
Deutsche Bank's regulatory capital ratios
Deutsche Bank (DB) is proving to be the riskiest bank to the global economy after it failed the Federal Reserve's 2016 stress tests in June, a view shared by the International Money Fund (or IMF). The IMF considered Deutsche Bank the riskiest global bank after it failed to meet the 2016 capital requirements.
Deutsche Bank's stock is down nearly 40% in 2016 so far. Capital reserves are important to restore the confidence of regulators and investors.
Article continues below advertisement
Article continues below advertisement
Management comments
During the 2Q16 earnings call, John Cryan, CEO of Deutsche Bank, noted, "We have continued to de-risk our balance sheet, to invest in our processes and to modernise our infrastructure. However, if the current weak economic environment persists, we will need to be yet more ambitious in the timing and intensity of our restructuring."
The Common Equity Tier 1 Capital Ratio, a closely tracked measure of financial strength, rose to 11.1% in September, higher than 10.8% in the previous quarter. For 2016, the bank expects the fully loaded CET 1 ratio to remain broadly flat. Further, litigation expenses, restructuring costs, and de-risking of non-core operations have impacted the CET 1 ratio.
Deutsche Bank has set a target of 12.5% for its CET 1 ratio and a leverage ratio of 4.5% by the end of 2018. Although Tier 1 capital is still within the current regulatory minimum, it is below the ratio required by 2019. Its European counterparts (EUFN) such as Credit Suisse (CS), UBS, and Royal Bank of Scotland (RBS) have been struggling to build capital reserves to meet regulatory requirements.