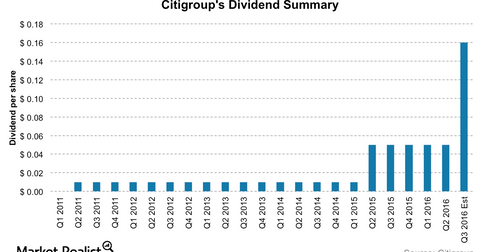 Citigroup: An Attractive Dividend Growth Stock?
By Rebecca Keats

Updated
Citigroup's dividend yields are the lowest among its peers
In June, Citigroup boosted its quarterly dividend nearly threefold, to $0.16 from $0.05, after it cleared stress tests. This payout, effective from the third quarter, raised its dividend yield to 1.5% and its payout ratio to 69% from 47% in 2015.
Citigroup's also got the Fed's approval on share repurchase plans worth $1.75 billion on Monday. This new buyback plan is in addition to the $8.6 billion worth of buybacks announced in June this year as well as the bank's dividend of $0.16 per share. The bank also said it would return a total of $12.2 billion in capital to shareholders by 2Q17 if it completes all its announced buybacks and dividend payments. This plan is important for investors in Citigroup, as the bank (XLF) has failed these stress tests on two occasions earlier. Its shares are currently beaten down and trade below book value. So this news of its dividend hike and share repurchase plans will be welcome news for shareholders and could boost its valuations.
Article continues below advertisement
In the pre-recession era, Citigroup (C) was famous for paying out high dividends to investors. However, when the recession hit, the company slashed dividends and then stopped them completely until the first quarter of 2011. For the following 15 quarters, the company paid minuscule dividends of $0.01 per share, which were hiked to $0.05 in 2Q15. Citigroup is currently one of the lowest-dividend-paying stocks among its peers Bank of America (BAC), J.P. Morgan (JPM), and Wells Fargo (WFC).