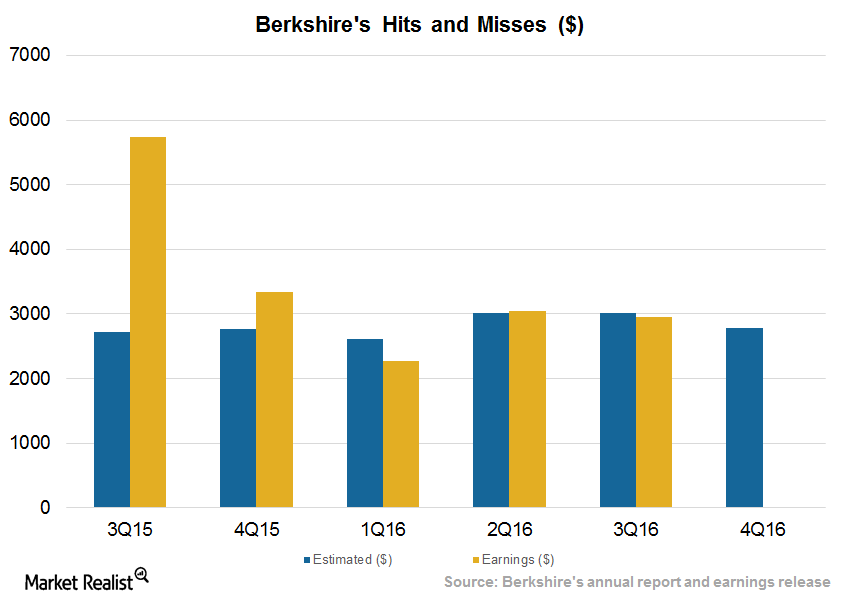 Buffett's Berkshire Misses Estimates amid Volatile Environment
Berkshire Hathaway's 3Q16 earnings
Berkshire Hathaway (BRK-B) reported its third quarter earnings on November 5, 2016. The company missed the operating earnings per share analyst estimate of $3,022 and reported EPS of $2,951.
The company also reported operating earnings of $4.9 billion as compared to $4.6 billion in 3Q15. These earnings rose on the energy, manufacturing, and services divisions, and were partially offset by the weak performance of the insurance and railroad segments.
Article continues below advertisement
Berkshire's book value per share rose to $163,783 in 3Q16 compared to $160,009 in the previous quarter. The stock has fallen 0.6% over the past month and has fallen 5.6% over the past year. In comparison, the S&P 500 (SPY) has fallen 3.5% over the past month and 0.7% over the past year. The company had a cash pile of a record $85 billion as of September 30, 2016. Berkshire's new additions like Precision Castparts (PCP) and Duracell have contributed significantly towards the growth of the manufacturing division. The company has record cash and can look at more acquisitions in the upcoming quarters in and outside of the US.
Conglomerate
With a market capitalization of more than $351 billion, Berkshire is a holding company whose entities engage in diverse business activities across sectors. Its subsidiaries operate in several major sectors:
freight rail transportation
insurance and reinsurance
manufacturing
service and retail
finance
utilities and energy
Berkshire Hathaway's investments are managed primarily by its CEO, Warren Buffett, and its vice chair, Charles Munger. Berkshire competes with asset managers and insurance players (PFF) including major players like MetLife (MET), American International Group (AIG), and BlackRock (BLK).
In this series, we'll study the performance of Berkshire's divisions, acquisitions, balance sheet, and valuations. Let's start by analyzing its insurance business.