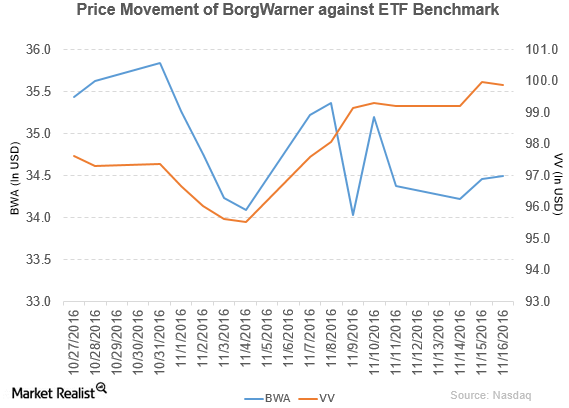 BorgWarner Announces the Launch of Its Electric Drive Module
Price movement
BorgWarner (BWA) has a market cap of $7.3 billion. It rose 0.09% to close at $34.49 per share on November 16, 2016. The stock's weekly, monthly, and year-to-date (or YTD) price movements were 1.4%, 2.5%, and -19.3%, respectively, on the same day.
BWA is trading 1.3% below its 20-day moving average, 1.4% below its 50-day moving average, and 1.5% above its 200-day moving average.
Article continues below advertisement
Related ETF and peers
The Vanguard Large-Cap ETF (VV) invests 0.03% of its holdings in BorgWarner. The YTD price movement of VV was 8.4% on November 16.
The market caps of BorgWarner's competitors are as follows:
Latest news on BWA
In a press release on November 16, 2016, BorgWarner reported, "BorgWarner, a global leader in clean and efficient technology solutions for combustions, hybrid and electric vehicles, will launch its electric drive module [eDM] with integrated eGearDrive® transmission in two pure electric vehicles from a major Chinese automaker. Production is expected to begin in summer 2017."
It also added, "BorgWarner's eDM provides primary or secondary propulsion for pure electric or P-4 type hybrid vehicles. The integrated design of the electric motor and transmission enables weight, cost and space savings. Since both functions are combined into one housing, installation is also easier."
Article continues below advertisement
Performance of BorgWarner in 3Q16
BorgWarner reported 3Q16 net sales of $2.2 billion, a rise of 15.8% over its net sales of $1.9 billion in 3Q15. The company's gross profit margin expanded 20 basis points, and its operating margin narrowed 580 basis points.
Its net income and EPS (earnings per share) fell to $83.3 million and $0.39, respectively, in 3Q16, compared to $157.4 million and $0.70, respectively, in 3Q15.
The company reported non-GAAP (generally accepted accounting principles) EPS of $0.78 in 3Q16, a rise of 6.8% over 3Q15. BWA's cash and inventories fell 10.2% and 5.0%, respectively, between 4Q15 and 3Q16.
Quarterly dividend
BorgWarner has declared a quarterly cash dividend of $0.14 per share on its common stock. The dividend will be paid on December 15, 2016, to shareholders of record on December 1, 2016.
Projections
BorgWarner has made the following projections for 4Q16:
net sales growth of 14.3%–17.8%
EPS of $0.82–$0.86, including ~$0.02 per share from its Remy acquisition
The company has made the following projections for 2016:
net sales growth of 15.2%–16.0%
EPS of $3.24–$3.28, including ~$0.12 per share from its Remy acquisition
In the next part of this series, we'll discuss Allison Transmission Holdings (ALSN).