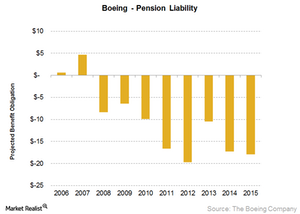 Inside Boeing's Often Overlooked Risk: Pension Liabilities
By Ally Schmidt

Nov. 8 2016, Updated 12:29 p.m. ET
Boeing's increasing pension liabilities
Simply put, pensions are an employer's promise to pay employees a defined sum after retirement. For Boeing (BA) to fulfill this promise to its employees, it would require $17.9 billion—a huge sum by any standard.
The sum has risen significantly over the past three years—from $10.4 billion at the end of 2013 to $17.1 billion at the end of 2014 to $17.9 billion at the end of 2015.
To put things in perspective, Boeing's current pension obligation is significantly higher than its debt. At the end of 3Q16, Boeing's debt was ~$10.5 billion, and its cash on the balance sheet stood at $9.7 billion.
Notably, Boeing makes up 4.5% of the PowerShares Buyback Achievers ETF (PKW).
Article continues below advertisement
Peer comparisons
Of course, Boeing is not the only player with a huge outstanding pension obligation, though it does top the list. At the end of 2015, defense peer Lockheed Martin (LMT) had an outstanding pension obligation of $11.6 billion, while United Technologies (UTX) had an outstanding pension obligation of $4.4 billion. Raytheon's (RTN) obligation stood at $6.6 billion as of the same date.
Series overview
In this series, we'll explore why Boeing has such a huge pension liability outstanding, what we can assume and why, and whether these assumptions are negative or not. We'll also see what Boeing is doing in the way of corrective actions—and if it could be doing more.
Continue to the next part for a key look at the types of two pension plans available to US employers.