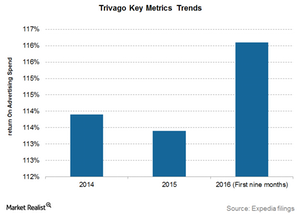 Analyzing Trivago's Key Metrics
Return on advertising spend
Return on advertising spend is the ratio of referral revenue to advertising expenses. Trivago uses the ratio to determine the effectiveness of its huge advertising spends. You should closely track this ratio.
Trivago's ROAS (return on advertising spending) was 113.9% and 113.4% for 2014 and 2015, respectively. It was 116.1% for the nine months ended in September 2016.
ROAS in the Americas, Developed Europe, and the Rest of World was 113.6%, 130.6%, and 87.7%, respectively, for the nine months ended September 30, 2016.
Article continues below advertisement
Qualified referrals
Each click by a visitor on the Trivago site is called a referral. One customer may click many times while searching for the best hotel offers. However, that customer will most likely make only one booking. That customer is called a qualified referral. In short, qualified referrals can be called unique visitors.
Although Trivago makes money on each type of referral, it tracks qualified referrals. Qualified referrals rose 55.3% to 334.6 million in 2015. For the nine months ended in September 2016, qualified referrals rose 58.6% to 413.1 million.
Revenue per qualified referral (or RPQR)
According to Trivago, "RPQR is a key financial metric that describes the quality of our referrals, the efficiency of our marketplace and, as a consequence, how effectively we monetize our users." It also explained that "RPQR is calculated as referral revenue divided by the total number of qualified referrals in a given period."
RQPR rose 2.1% in 2015 to 1.5 euros compared to 1.4 euros in 2014. For the nine months ended in September 2016, RQPR fell 6.0% to 1.4 euros compared to 1.5 euros in nine months ended September 2015.
Expedia (EXPE) makes up 1.4% of the Guggenheim S&P 500 Pure Growth ETF (RPG). It also invests 0.99% in Expedia's archrival Priceline (PCLN) and 0.63% in TripAdvisor (TRIP). However, it has no holdings in leading Chinese OTA (online travel agency) player Ctrip.com (CTRP).
Be sure to watch our Online Travel Agency page for a complete analysis of the IPO after it closes.