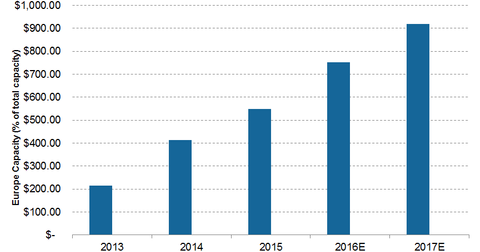 Analyzing Trivago's Financials: Revenue at the Cost of Ads
By Ally Schmidt

Updated
Revenue growth
Trivago's revenue has risen an impressive 90.0% CAGR (compound annual growth rate) from 2010 to 2013. As Trivago's markets mature, the growth rate will decline, as is evident from recent trends.
Revenue rose 43.0% in 2015 to $324.6 million compared to $253.0 million in 2014. For the nine months ended in September 2016, revenue rose 38.0% year-over-year to $657.4 million.
Revenues for the Americas and the Rest of the World are expected to rise at a faster pace than Developed Europe. That's because they're newer markets than Europe. As a result, brand awareness and penetration are already high in Europe, leading to moderate growth in the region.
Article continues below advertisement
Cost structure
Selling and marketing expenses, or all its ad spends, are the single largest cost for Trivago, accounting for 85.0% of its total expenses. These expenses were $346.0 million in 2014, $501.0 million in 2015, and $604.7 million for the nine months ended in September 2016.
However, it's a conscious strategy by Trivago to increase brand awareness. According to management, ads help increase visits to the website. That, in turn, makes it more lucrative for more hotels to list on Trivago. Building up hotel inventory is important to develop stickiness and make the service valuable to customers, which results in more visits.
Other costs are minimal. Administrative expenses form only 7.0% of its total expenses, while technology and content form another 6.0%.
Running in losses
Trivago's total expenses, however, are 110.0% of its revenues, meaning the company is still not profitable. For 2014, it had an operating loss of $37.0 million. For 2015, losses were $52.0 million. For the nine months ended in September 2016, it had losses of $56.5 million.
Expedia (EXPE) makes up 1.4% of the Guggenheim S&P 500 Pure Growth ETF (RPG). It also invests 0.99% in Expedia's archrival Priceline (PCLN) and 0.63% in TripAdvisor (TRIP). However, it has no holdings in leading Chinese OTA (online travel agency) player Ctrip.com (CTRP).