A Look at Trivago's Journey toward Its IPO
In Expedia's 2Q16 earnings call in July 2016, CEO Dara Khosrowshahi said it would work with Trivago to file a Trivago IPO before the end of 2016.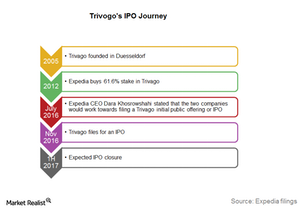 Chronology of events
Let's take a look at the chronology of events that led up to Trivago's decision to file an IPO (initial public offering).
2005: Trivago was founded in Duesseldorf, Germany, and has grown to be one of Germany's most successful startups of the past decade. Duesseldorf remains its headquarters.
2012: Expedia bought a 61.6% stake in Trivago, paying about $628.0 million in cash and stocks. Both Trivago and Expedia agreed to put in a put/call window.
December 2015: This date marked the first window closure of the put/call window, which was postponed to March 2017. We'll look at the put/call window in detail in the next part of this series.
July 2016: In the company's second-quarter earnings call in late July 2016, Expedia's CEO (chief executive officer) Dara Khosrowshahi said the two companies would work toward filing a Trivago IPO before the end of 2016. However, other options would be pursued if they couldn't put Trivago on the public market before the end of the year.
Early September 2016: The companies interviewed banks for potential roles in the IPO.
Mid-September 2016: Expedia chose JPMorgan, Goldman Sachs, and Morgan Stanley as global coordinators for the IPO. Citi, Bank of America, and Deutsche Bank will act as book runners.
November 2016: Trivago filed for an IPO.
First half 2017: The IPO is expected to close.
You can gain exposure to Ctrip.com by investing in the PowerShares NASDAQ Internet (PNQI), which invests 3.5% of its holdings in Expedia (EXPE). It also invests 8.2% in Priceline (PCLN), 3.2% in Ctrip.com International (CTRP), and 1.4% in TripAdvisor (TRIP).
Once the IPO is completed and all details are available, we'll be analyzing it here. So be sure to keep track of the Market Realist Online Travel Agency page.
Article continues below advertisement
Article continues below advertisement