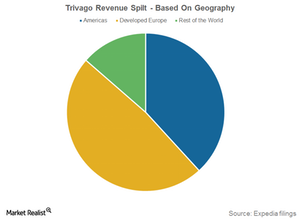 A Close Look at Trivago's Business Model
By Ally Schmidt

Dec. 1 2016, Updated 10:04 a.m. ET
Trivago's business model
Trivago is a global hotel search platform. According to Trivago, its mission is to "be the traveler's first and independent source of information for finding the ideal hotel at the lowest rate." Users can access Trivago through 55 localized websites and apps (applications) and across 33 countries.
Trivago combines hotel content from various sources on its platform. These hotels are then displayed to users based on their search criteria. Trivago also claims to help users get the best rates by providing a comparison for a million hotels on more than 250 booking sites.
However, users can't book on Trivago; they can only choose the hotel. For booking, they're redirected to traditional OTAs (online travel agencies) such as Priceline (PCLN), Ctrip.com (CTRP), and Expedia (EXPE).
That's similar to what TripAdvisor (TRIP) did before the instant booking rollout. However, unlike TripAdvisor, Trivago doesn't intend to ever go the booking route.
Article continues below advertisement
Trivago earns revenues in two ways. The first is commissions from hotels listed on Trivago sites, which is called referral revenue. This revenue is earned when users click on a particular hotel from the search results. Hotels are charged based on a cost-per-click (or CPC) basis. CPC for each spot is determined through a bidding process that takes place on the Trivago marketplace.
The second way is the subscription fee, which includes fees paid by hotels for services provided by Trivago. However, most of its revenue is from referral revenue.
Geography split
Trivago has categorized its revenue across three geographies: the Americas, Developed Europe, and the Rest of World. For the nine months ended September 30, 2016, the Americas formed 38.2% of Trivago's revenue, Developed Europe formed 47.2%, and the Rest of World formed 13.6%.
However, costs have been growing at a similar pace, which we'll look at in detail in the next part of this series.
You can gain exposure to Expedia (EXPE) through the First Trust Dow Jones Internet ETF (FDN), which has 3.0% of its holdings in the company. FDN also has a 1.7% holding in rival TripAdvisor (TRIP). However, it doesn't have any stake in archrival Priceline (PCLN), which has a stake in Ctrip.com (CTRP), China's leading online travel agency player.