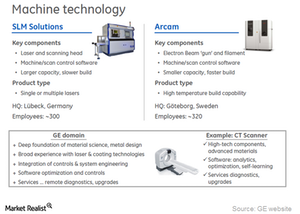 Why Is General Electric Focused on Additive Manufacturing?
By Samuel Prince

Updated
General Electric's focus on 3D printing
Earlier in this series, we looked at General Electric's (GE) expected operating margins and profit in 3Q16. In this part, we'll look at GE's plans in the additive manufacturing space. On September 6, 2016, GE acquired two 3D printing companies, Arcam and SLM, for $1.4 billion in cash.
General Electric paid a hefty premium to acquire Arcam and SLM. However, the acquisitions were in line with GE's vision to grow the company's competitive advantage in core industrial segments such as aviation (DAL) and power (DUK).
Article continues below advertisement
How does GE plan to leverage 3D printing?
GE plans to integrate 3D printing technology into its core industrial business. The company has already reached some major milestones in the aviation business via 3D printing technology.
Using electron beam melting technology and laser sintering, GE successfully built a superior fuel nozzle for the LEAP (Leading Edge Aviation Propulsion) jet engine (BA). The earlier versions of the nozzles were built using 19 parts, whereas the new one is a single component. The new nozzle would result in a 15% improvement in fuel efficiency and less engine maintenance.
The extensive use of additive manufacturing could help GE quicken the pace of the delivery backlog of LEAP engines. The company plans to ramp up production to ~1,900 engines per year by 2019, and is aiming for the 3D printing of 40,000 LEAP fuel nozzles by 2020. Also, the company plans to combine 3D printing technology with its industrial Internet operating system (HON), Predix. Therefore, it should be able to generate regular revenues through software and maintenance services from the 3D printing business.
The company hopes to curtail its manufacturing costs by $3.0 billion to $5.0 billion by 2025. Also, it is targeting $1.0 billion in 3D printing revenues by 2020.
ETF investment
Investors interested in GE could opt for the iShares Global Industrials ETF (EXI). GE makes up 7.4% of EXI's portfolio. In the next part, we'll discuss why General Electric is keen on the industrial Internet space.