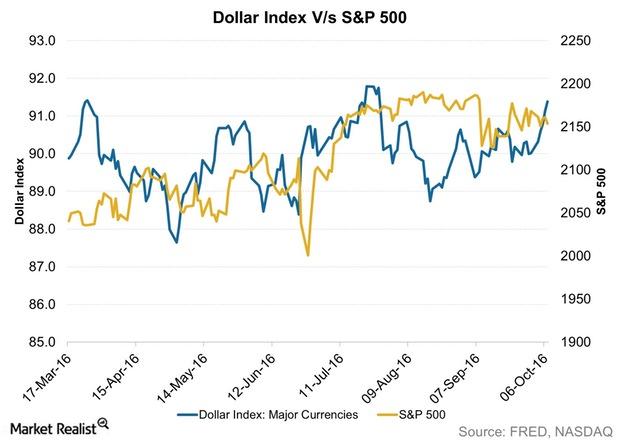 How Does a Strong Dollar Affect Stocks?
By David Ashworth

Oct. 13 2016, Published 1:54 p.m. ET
A complex relationship
The relationship between the US dollar and US stock indexes (SPY) can be best said to be complex. It's mostly a change in the greenback that impacts stocks, not the other way around.
A rising US dollar is generally considered to be bad for stocks, while a weaker dollar is considered to be beneficial. However, these are only generalizations. The actual impact must be assessed in light of the reason for the change in the dollar's value.
Article continues below advertisement
If the dollar's rise is fueled by an impending rate hike, then there's a possibility that stocks (QQQ) will show a falling trend. Monetary accommodation is beneficial to stocks, especially sectors such as utilities (XLU). Any news on removals or reductions in monetary support hurts stocks, as they've benefited from prevailing easy monetary policies.
On the other hand, if the dollar has strengthened primarily due to weakness in its most-traded peers such as the euro or the pound, stocks may not necessarily exhibit a falling trend.
Domestic versus foreign focus companies
The impact of the dollar is different on domestic and foreign-focused companies. A strong dollar means that one can buy less of a good for the same price or the same good at a higher price in the international market. A persistent strengthening of the dollar makes international buyers look for alternatives to such goods, leading to falls in demand.
In this way, a persistently strong dollar can hurt foreign business–focused companies. The US economy will also be affected as exports fall. Export-oriented companies such as General Motors Company (GM) and Procter & Gamble (PG), among a host of others, can see their overseas sales falling, negatively impacting their profitabilities and driving their stock prices down. Sectors such as technology (XLK) and energy (XLE) can be hurt as well.
Meanwhile, companies operating domestically aren't as sharply impacted when the dollar strengthens.
In the next article, let's look at the impact of the dollar on international bonds.