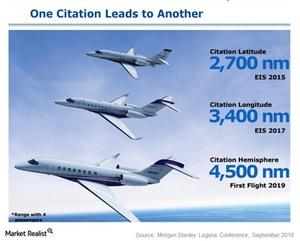 NetJets Orders Secure Textron Aviation amid Business Jet Weakness
The struggling business jet market
The business jet market continues to be soft on slowing GDP growth rates around the world. Since this also affects corporate profit growth, which has been poor so far in many sectors, business jet usage has continued to slow down throughout the year.
The US market is dominated by light and mid-sized jets. Emerging markets dominate large-sized jets. Business jets (XAR) are classified on the basis of their size into light jets, mid-sized jets, and large business jets. Textron's Cessna (TXT) and Embraer (ERJ) are major manufacturers of light and mid-sized business jets. Bombardier has a larger share in the mid-sized and large-sized business jets. General Dynamics' (GD) Dassault and Gulfstream jets are mostly large-sized jets.
Despite being in the category that has suffered the most in this downturn, Cessna has managed to shrug it off by making market share gains through some of its new business-jet programs and securing large orders.
Article continues below advertisement
Article continues below advertisement
Textron's new business jet aids sales
Textron Aviation managed to increase its sales in the last two quarters after gaining traction for its new Latitude business jets, certified by the FAA (Federal Aviation Administration) in June 2015. The company secured 150 orders from NetJets, a Berkshire Hathway (BRK.A) company and a world leader in private aviation. Of the 150 orders, 25 are firm orders with deliveries that began in 2016.
The company has also made decent market share gains in an environment in which peers such as Learjet and HondaJet (HMC) have had cancellations and delays. Textron is now adding a new mid-sized jet, its largest ever, known as the Hemisphere. It's trying to capture more of the lucrative mid-sized business jet market.