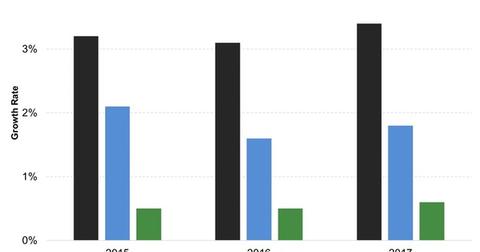 The IMF Sees Improvement in Japanese Economic Growth Forecasts
By David Ashworth

Updated
Projections revised
The IMF (International Monetary Fund) expects Japanese economic growth to be 0.5% in 2016—the same as in 2015—and to tick up to 0.6% in 2017. The IMF's projection for 2016 is unchanged from its April WEO (World Economic Outlook) forecast, while the projection for 2017 has been substantially revised upward from its April projection of -0.1%. In its July update, the IMF had reduced the pace of economic growth for 2016 to 0.3%.
Article continues below advertisement
In its October World Economic Outlook report, the IMF noted that Japanese economic growth slowed to 0.7% in 2Q16, as compared to 2.1% in 1Q16. Some of this sharp deceleration was due to a reversion after an unusually strong first quarter. The increase in consumer spending in the first quarter was positively impacted by leap year effects. This effect was absent in the second quarter. Also, the weakening external demand and declines in corporate investments also hurt economic output in 2Q16.
Additional monetary support
On September 21, 2016, the Bank of Japan revealed further monetary support for the economy by announcing a new policy framework, which it referred to as "Quantitative and Qualitative Monetary Easing with Yield Curve Control." In a speech on September 26, Bank of Japan Chief Haruhiko Kuroda explained the benefits of QQE and outlined the new framework.
The central bank has removed all timelines for achieving its inflation target of 2%. Kuroda noted that a deflationary mindset has taken root in Japan. If individuals and businesses don't believe that prices will firm up, they will have little incentive to invest or spend. Workers are not able to demand higher wages because businesses don't think prices will rise enough in the future to justify salary hikes.
Remember, when people don't get sizable pay raises, they're not inclined to spend as much on discretionary items. Instead, they tend to park their savings in cash at the bank, even though they're not earning any interest on it.
So far in 2016, unhedged Japan-focused ETFs (EWJ) (SCJ) have done much better than hedged ones (DXJ) (HEWJ) (DBJP). Investors would do well to see whether inflation in Japan shows any signs of revival in the next two fiscal quarters. If signs of revival do appear, Japanese equities may become interesting again.