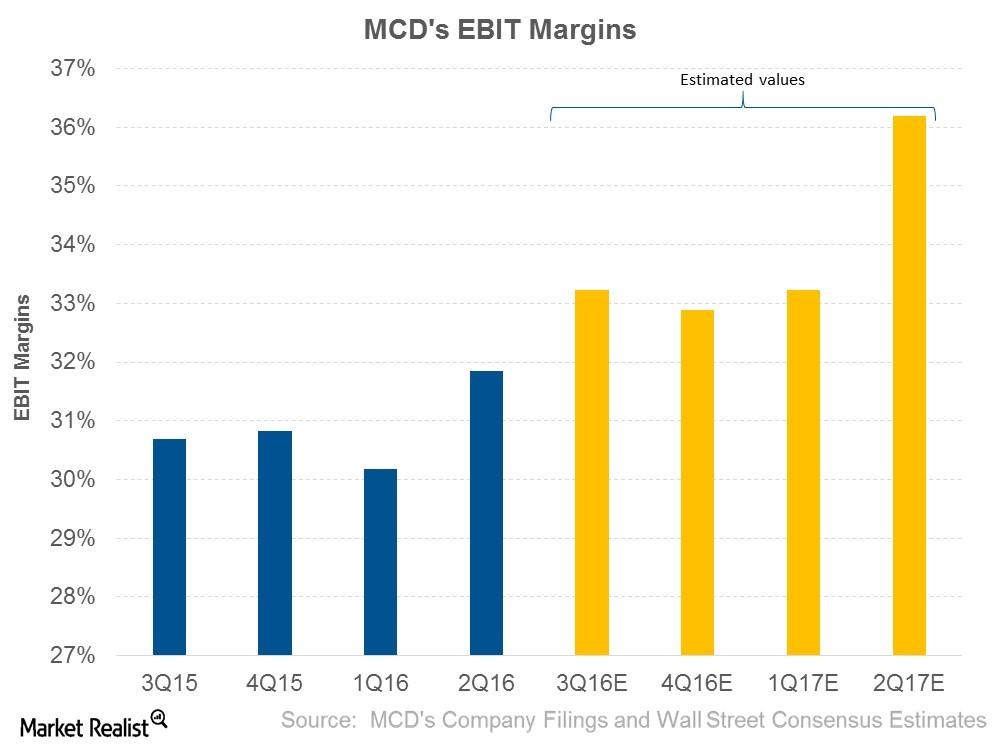 How Will McDonald's Expand Its EBIT Margins?
EBIT margins
Wall Street analysts are expecting McDonald's (MCD) to post EBIT (earnings before interest and tax) of $2.1 billion in 3Q16. This represents an EBIT margin of 33.2% compared to 30.7% in 3Q15.
Article continues below advertisement
Factors affecting EBIT margins
For fiscal 2016, McDonald's management expects the outlook for commodity prices to fall 3.5% to 4.5% in the United States and to be flat in international markets. In 2Q16, commodity prices fell 4.5% in the United States. Analysts are expecting commodity prices to be favorable in 3Q16 as well.
With the goal to reduce general and administrative expenses by $500 million in 2018, McDonald's has set its guidance to save $75 million by the end of 2016. Along with these reduced expenses, sales leverage from positive same-store sales growth and refranchising could contribute to expanding McDonald's EBIT margins. However, increased labor expenses due to a rise in wages are expected to offset some of the gains in margins.
Peer comparisons
In 3Q16, analysts are expecting Wendy's (WEN), Jack in the Box (JACK), and Restaurant Brands International (QSR) to post EBIT margins of 18.7%, 13.6%, and 40.0%, respectively, compared to 13.6%, 11.8%, and 39.0%, respectively, in 3Q15.
Outlook
With favorable commodity prices expected for the rest of 2016 and increased refranchising, analysts expect McDonald's EBIT margins for fiscal 2016 to rise to 32.4%, from 29.1% in fiscal 2015. In 1Q17 and 2Q17, analysts are expecting McDonald's to post EBIT margins of 33.2% and 36.2%, respectively.
Next, we'll look at McDonald's earnings estimates for 3Q16.