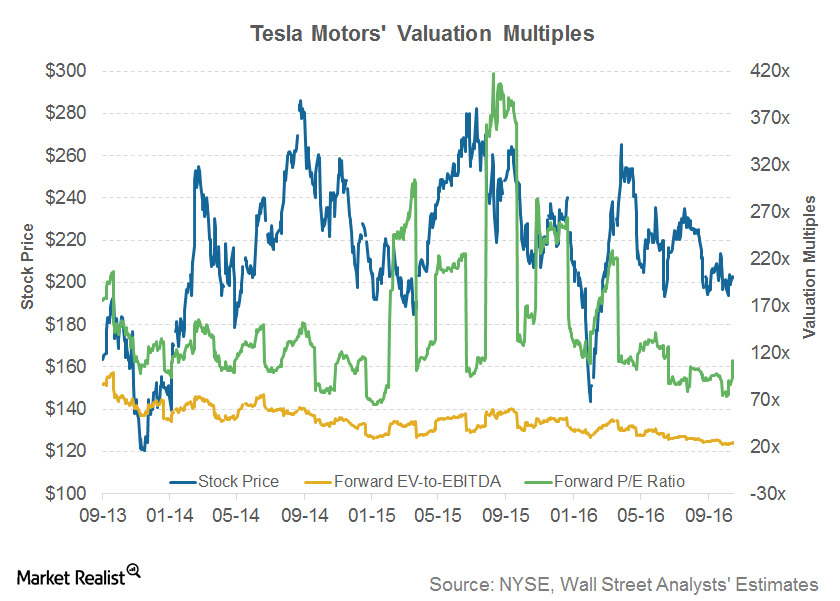 What Could Drive Tesla's Valuation Multiples in 4Q16?
Valuation multiples
The automotive industry is highly capital-intensive in nature. Valuation multiples are widely used in capital-intensive industries like the auto industry to compare companies. However, it's important to understand that we can only use valuation multiples to compare companies that are similar in nature in terms of business, size, or financials. In the case of Tesla Motors (TSLA), no other publicly listed automaker is similar enough to make a comparison.
Article continues below advertisement
Tesla's valuation
As of October 26, 2016, Tesla's forward EV-to-EBITDA multiple was 26.4x, which is based on the company's estimated EBITDA for the next 12 months. Tesla's forward PE (price-to-earnings) multiple is 112.3x.
Currently, the company's valuation multiples are trading much higher than other auto giants including General Motors (GM), Ford (F), and Toyota (TM). There are analysts who question Tesla's high valuation multiples. However, Tesla can't be valued using the same metrics as these mainstream automobile companies (IYK).
Factors to track going forward
In 3Q16, Tesla demonstrated solid positive growth on all fronts and has also become cash flow positive. Now, the company's ability to sustain this growth will be key for its future growth estimates to remain high and drive its valuation multiples.
Also, now Tesla's future growth prospects are highly dependent on its efforts to ensure timely deliveries of the upcoming Model 3. Therefore, any possibility of delay in Model 3 mass production and deliveries could negatively affect its valuation multiples.
Note that Tesla is a growth company unlike other legacy automakers that have a proven track record. The valuation multiples of a mature company are primarily affected by risk factors. However, in the case of a fairly new company such as Tesla, growth matters the most.
Continue to the next part to find out what Wall Street analysts are recommending for Tesla after its strong 3Q16 report.