Bank of America Merrill Lynch Upgrades PKG to a 'Buy'
Price movement Packaging Corporation of America (PKG) has a market cap of $7.8 billion. It rose 0.53% to close at $83.77 per share on October 18, 2016. The stock's weekly, monthly, and year-to-date (or YTD) price movements were 3.9%, 4.2%, and 36.4%, respectively, on the same day. PKG is trading 3.2% above its 20-day moving […]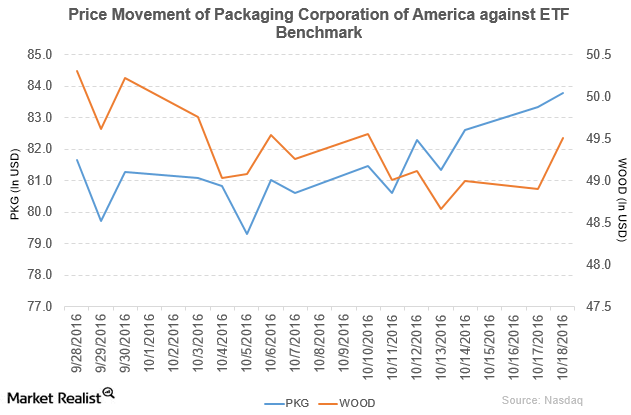 Price movement
Packaging Corporation of America (PKG) has a market cap of $7.8 billion. It rose 0.53% to close at $83.77 per share on October 18, 2016. The stock's weekly, monthly, and year-to-date (or YTD) price movements were 3.9%, 4.2%, and 36.4%, respectively, on the same day. PKG is trading 3.2% above its 20-day moving average, 5.8% above its 50-day moving average, and 28.2% above its 200-day moving average.
Article continues below advertisement
Article continues below advertisement
Related ETF and peers
The iShares Global Timber & Forestry ETF (WOOD) invests 3.8% of its holdings in PKG. The ETF tracks the 25 largest publicly listed companies that own or manage forests and timberlands. The YTD price movement of WOOD was 3.7% on October 18.
The market caps of PKG's competitors are as follows:
PKG's rating
Bank of America Merrill Lynch has upgraded Packaging Corporation of America's rating to a "buy" from "neutral" and set the stock's price target at $92 per share.
Performance in 2Q16
PKG reported 2Q16 net sales of ~$1.4 billion, which is a YoY (year-over-year) fall of 2.5% from its net sales of ~$1.5 billion in 2Q15. Sales from its Packaging and Paper segments fell 1.5% and 5.1% YoY, respectively, between 2Q15 and 2Q16. The company's gross profit margin and income from operations rose 3.4% and 1.3% YoY, respectively.
Its net income and EPS (earnings per share) rose to $115.9 million and $1.23, respectively, in 2Q16, compared with $114.0 million and $1.16 in 2Q15. It reported EBITDA (earnings before interest, tax, depreciation, and amortization) excluding special items of $290.4 million in 2Q16, a YoY rise of 1.1%.
PKG's capital spending fell 20.2%, and its cash balance rose 30.5% between 2Q15 and 2Q16. Next, we'll look at Ford Motor (F).