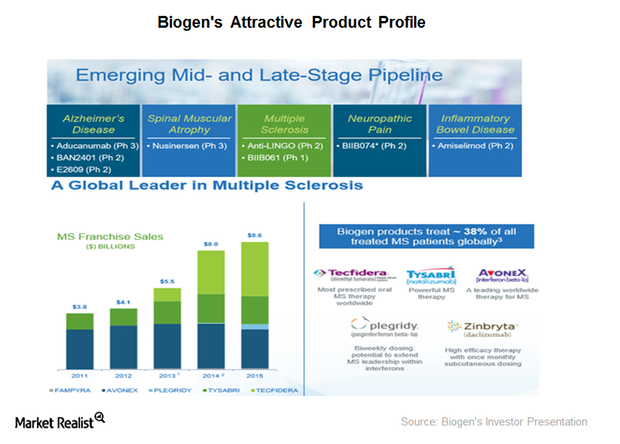 What's behind Biogen Buyout Rumors?
Biogen buyout speculations
Since early August 2016, there have been rumors of a likely buyout of Biogen (BIIB) by one of the many interested suitors in the biotechnology industry. Allergan (AGN) and Merck (MRK) are some of the companies interested in Biogen. Biogen's strong Alzheimer's drug pipeline, with aducanumab being a stellar attraction due to its immense market potential, and the company's leading position in the multiple sclerosis (or MS) market are the major reasons why Biogen could be a buyout target. For more on Biogen's MS leadership, read BIIB Continues to Lead the MS Treatment Market in the US in 2016.
Article continues below advertisement
Moreover, with the announcement of Biogen's CEO stepping down at a high point with the company reporting strong quarterly results and a promising product pipeline, the company is considered an attractive takeover opportunity. Any formal acquisition offer in the near future will lead to gains in the company's stock price. The price of the iShares Nasdaq Biotechnology ETF (IBB) will also be impacted by any movement in Biogen's stock. Biogen constitutes approximately 8.5% of the IBB's total portfolio.
Is Biogen an attractive opportunity?
Biogen currently has three blockbuster drugs in its portfolio: Tecfidera, Avonex, and Tysabri. These MS drugs are the key contributors to the company's revenues. Though Tecfidera sales witnessed a slowdown in the recent quarters, it registered a ~12% YoY (year-over-year) revenue growth in 2Q16. Also, the sales of Avonex and Plegridy, Biogen's interferon drugs, have witnessed headwinds due to the competition from the oral alternatives in the market. Tysabri, however, is going strong and expected to witness a rise in sales due to the positive label update in Europe and an extended indication.
Biogen's Alzheimer's drug, aducanumab, which is under late-stage trials, is a highly attractive product that will be a first of its kind in the attractive $5 billion Alzheimer's market in the United States. Additionally, Biogen's late-stage study of Nusinersen in the area of spinal muscular atrophy in infants in collaboration with Ionis Pharmaceuticals (IONS) is also promising for the company.
Biogen has a strong balance sheet with a stable debt ratio. Also, the company's top line and bottom line both have seen stable growth in the recent quarters. Biogen is trading at a decent valuation as compared to its peers and average industry multiple.
Next, let's discuss Biogen's hemophilia business spin-off.