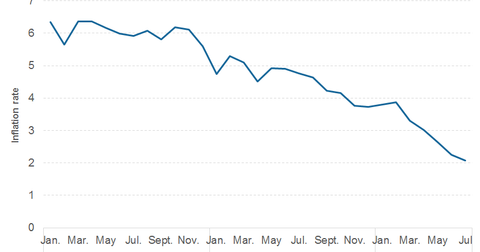 What Do Macao's Inflation Numbers Indicate?
By Ally Schmidt

Updated
Inflation rate
Inflation refers to a general increase in the price of goods and services in an economy, leading to a decline in the purchasing power of money. The annual inflation in Macao fell to ~2.1% in July 2016.
Inflation has, in fact, been on a declining trend in the region since February 2016, when the inflation rate was at nearly 3.9%, according to the data released by the Statistics and Census Service.
The lower inflation rate came on account of slower increases in prices for the highest weighing components of the index. Food and non-alcoholic beverages, which form 29% of the index, increased in price by ~2.4%, while housing and fuels, which make up 27%, increased in price by just 0.12%.
Transport, which makes up 11% of the index, saw a 7.1% price rise, while miscellaneous goods, which makes up 9% of the index, increased in price by 1%.
The highest increase (36.2%) was seen in alcoholic beverages and tobacco, which constitute 1% of the index. Education, which makes up 2.9% of the index, increased by ~8.5%.
Article continues below advertisement
Why the increase in July?
The increase in July was attributed to due to higher rent for parking, high property management fees, and the rising cost of eating out.
The composite CPI (consumer price index) increased by 3% YoY (year-over-year) for the first seven months of 2016, and the number of tourists declined by 1.6% YoY over the same period, affecting income levels.
Government measures
The government of Macao has announced that it will distribute about $1,127 to each permanent resident and about $676 for each non-permanent resident this year under its "Wealth Partaking Scheme." The scheme involves the distribution of small basic income meant to ensure that all Macanese share the benefits of the region's economic development. This strategy should also help mitigate the effects of the rising inflation in the region.
Takeaways
Growth in inflation reduces the purchasing power of the consumers since their spending capacity decreases. A decline in inflation would thus be positive for casino companies like Las Vegas Sands (LVS), MGM Resorts (MGM), Wynn Resorts (WYNN), and Melco Crown Entertainment (MPEL). People would have higher disposable income to spend on leisure activities, and borrowing would become less expensive for the companies.
Notably, Vanguard Extended Market ETF (VXF) holds 0.45% in LVS.
In the next part, we'll analyze other strategies in Macao.