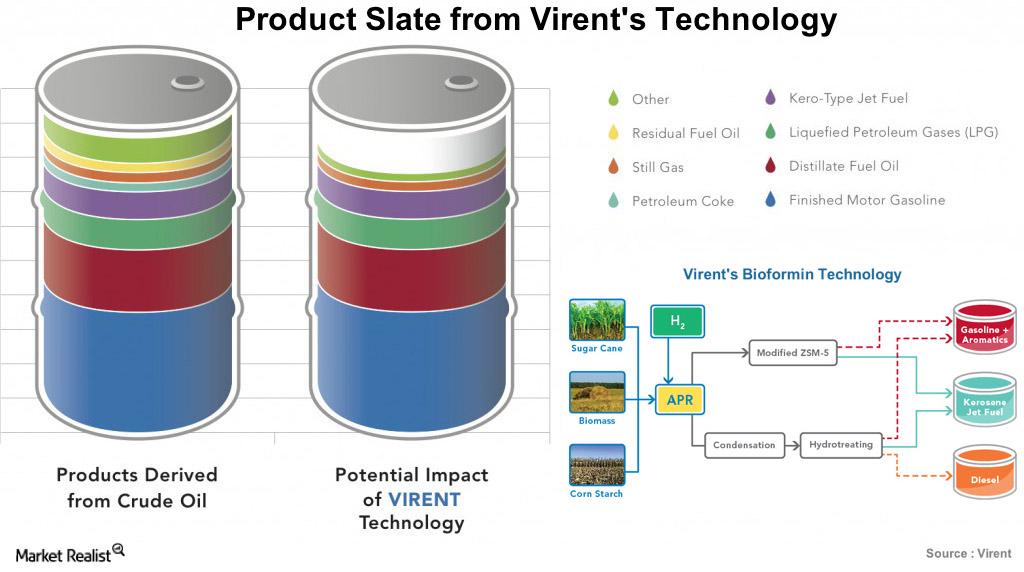 Tesoro's Acquisition of Virent Helps It Focus on Biofuels
By Maitali Ramkumar

Sep. 12 2016, Updated 4:05 p.m. ET
Tesoro agrees to acquire Virent
In a bid to foster its biofuels business, Tesoro (TSO) has agreed to acquire Virent. The company is expected to operate as Tesoro's wholly owned subsidiary.
With its patented Bioforming technology, Virent uses bagasse from sugarcane, corn stover from maize, and other biomasses such as wood and sorghum instead of crude oil to produce fuels and chemicals.
The fuels produced include gasoline, diesel fuel, jet fuel, and blendstock. These can be mixed with traditional fuels or be used in Tesoro's current refineries. The fuels can also be used in pipelines, pumps, and tanks without additional outlay.
Similarly, Virent produces foundation chemicals such as benzene, xylene, paraxylene, toluene, aromatic solvent. These are the important building blocks for products such as polyester, polyurethanes, polycarbonates, synthetic rubbers, polystyrene, and nylon.
Article continues below advertisement
Along with the production of biofuels, Virent will help Tesoro create environmental credits, reducing its compliance costs with regulatory authorities. Tesoro, being a producer of petroleum products, has to blend biofuels at a rate that satisfies the EPA's (U.S. Environmental Protection Agency) annual quota. If Tesoro is unable to do so, it has to purchase RINs (Renewable Identification Number) from a market. RINs are assigned for biofuels produced or imported into the United States.
Similarly, according to the cap and trade emission credits program in California, Tesoro has to buy credits for any carbon emissions above the regulated level.
According to Tesoro's management, "With this acquisition, Tesoro intends to foster more rapid commercialization of Virent's renewable technology, which could uniquely position the Company with an improved means of future regulatory compliance, as well as potential licensing opportunities."
Series outline
The Virent acquisition is likely to boost Tesoro's efforts in the renewable energy space.
In this series, we'll provide you with an update on Tesoro's operations, financials, and market performance. In the next few articles, we'll examine analysts' ratings for TSO, its refining margin trend, its region-wise net refining margins, and its growth plans. We'll also look at the current quarter's refining margin indicators and regional refining cracks.
Later, we'll analyze TSO's financial position by examining the company's leverage and cash flow. Finally, we'll discuss TSO's valuations, short interest position, institutional ownership status, and implied volatility movements.
For exposure to refining stocks, investors can consider the iShares North American Natural Resources ETF (IGE). The ETF has ~6% exposure to refining and marketing sector stocks.