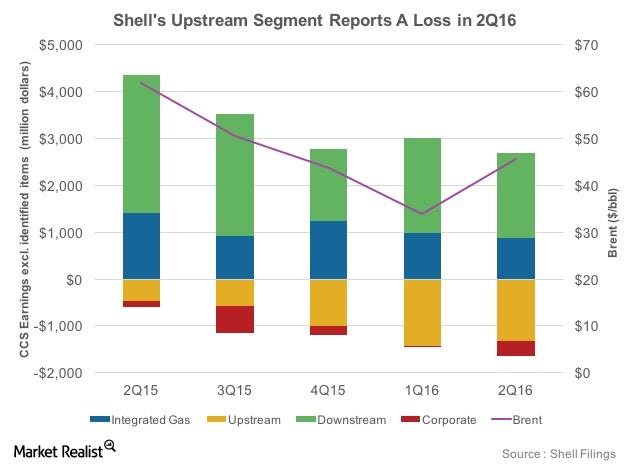 Shell's Segments: Upstream Continues to Report Losses
Shell's segments
Falling crude oil prices have changed the segmental dynamics within integrated energy companies such as Royal Dutch Shell (RDS.A).
Shell's upstream earnings, which stood at -$469 million in 2Q15, slipped to about -$1.3 billion in 2Q16 excluding identified items. This was due to falls in crude oil and natural gas prices. Brent prices fell from $62 per barrel in 2Q15 to $46 per barrel in 2Q16. The fall was partially offset by depressed operating and exploration costs and higher liquids production volumes.
Article continues below advertisement
Shell's other segments' earnings in 2Q16
Shell's integrated gas earnings fell 38% over 2Q15 to $868 million in 2Q16. This was due to lower oil and LNG (liquefied natural gas) prices. Plus, a rise in depreciation and operating costs due to the company's BG Group acquisition further impacted its earnings.
However, higher LNG and liquids volumes due to the BG Group acquisition helped the company's earnings. Plus, Shell's downstream segment's earnings fell 39% over 2Q15 to $1.8 billion in 2Q16 due to a weaker refining environment.
Even though earnings from Shell's integrated gas and downstream segments fell, they contributed the majority of the company's 2Q16 earnings.
Shell's peers
Shell's peers BP (BP) and Suncor Energy (SU) have also seen their segment dynamics change. BP's upstream segment, which contributed 20% to its URC EBIT (underlying replacement cost and earnings before interest and tax) in 2Q15, contributed just 2% in 2Q16. Suncor's oil sands segment, which earned profits in 2Q15, posted a loss in 2Q16.
Also, ExxonMobil's (XOM) upstream segment, which contributed 58% to its total earnings in 1Q15, turned into a loss-making segment in 1Q16. The iShares North American Natural Resources ETF (IGE) has ~22% exposure to integrated energy sector.