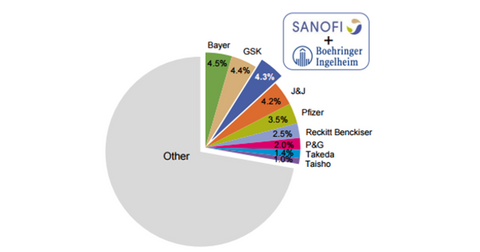 Why Is Sanofi Expanding in the CHC Space?
By Jillian Dabney

Sep. 8 2016, Published 10:18 a.m. ET
Growing CHC market
Sanofi (SNY) plans to become a leading company in the CHC (consumer healthcare) business. The asset swap between Sanofi and Boehringer Ingelheim will exclude Boehringer Ingelheim's CHC business in China.
Through this swap, Sanofi expanded its scale in CHC in Europe and Japan. This transaction will be accretive to Sanofi's EPS (earnings per share) after 2017.
With the business swap, Sanofi won access to Boehringer Ingelheim's key brands such as Buscopan, Dulcolax, Mucosolvan, Pharmaton, and Bisolvan. The key brands in Sanofi's CHC portfolio include Allegra, Doliprane, Essentiale, and Enterogermina.
When combined, Sanofi now holds a 4.3% share in the CHC market—this excludes Boehringer Ingelheim's China CHC business. Sanofi is ahead of Pfizer (PFE), Johnson & Johnson (JNJ), and Takeda (TKPYY) in terms of market share in the CHC space.
Article continues below advertisement
Performance of CHC business in 1H16
Sanofi's CHC business fell by 8.8% on reported basis to 1.7 billion euros in 1H16. It was following the adverse economic situation in Venezuela along with the disposal of minor products and lower sales in Russia and China. Historically, Sanofi's OTC (over-the-counter) business growth outpaced the industry in the US. During 2Q16, following a weak allergy season in the country, growth in the CHC business was comparatively low at ~3.6%.
What are the growth prospects for the CHC business?
The global CHC market is expected to grow in the mid-single digits. When the two businesses were combined, sales for the allergy and cough and cold category were the highest—amounting 1.2 billion euros in fiscal 2015. Sanofi plans to set a separate global business unit for the CHC business. This asset swap enabled Sanofi to focus on its human health business.
By investing in the First Trust Value Line Dividend Index Fund (FVD), you can get exposure to Sanofi. FVD invests 0.51% of its assets in Sanofi.