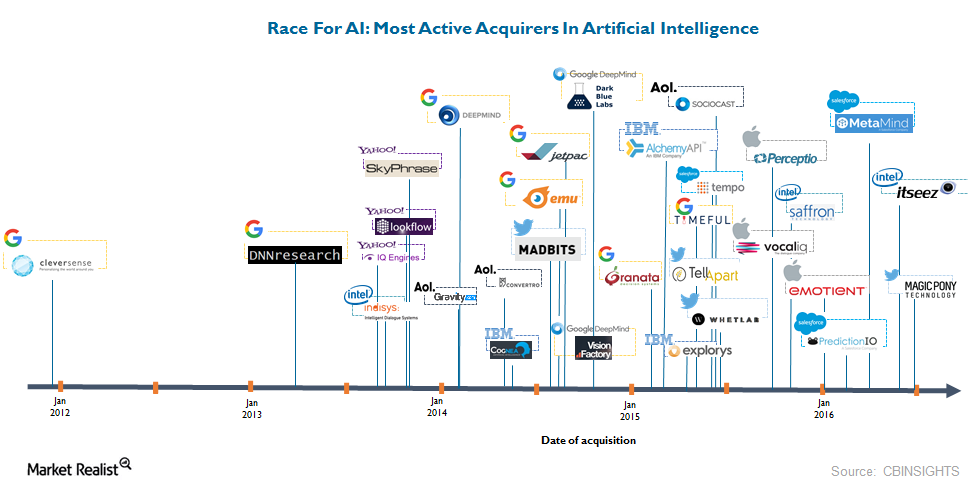 Microsoft Faces Stiff Competition in Artificial Intelligence
Rapidly changing IT environment and significant cash reserves
Microsoft's (MSFT) current acquisition spree (LINKD) has come as no surprise, considering the rapidly changing IT (information technology) space and the significant cash reserves it has. In 2015, Microsoft held $108.3 billion in earnings overseas, which accounts for 4.7% of the total overseas cash held by S&P 500 companies.
The company's acquisition of Genee is likely to complement its SwiftKey acquisition, which was Microsoft's first mobile app purchase in 2016. SwiftKey uses an AI-based (artificial intelligence) neural network to predict preference for next words. Notably, Microsoft has been recognized as a leader in Gartner's Magic Quadrant for Business Intelligence and Analytics Platforms report for the ninth consecutive year in 2016.

Article continues below advertisement
The future of tech and big tech players
Given the growth and revolutionary status that AI is expected to bring to tech space, other major tech players' interests in this space are not surprising. Intel (INTC) got attracted to deep learning and recently acquired Nervana for $408 million to tap the market.
Meanwhile, IBM (IBM) has already invested billions of dollars in machine learning and AI through partnerships and acquisitions to develop its Watson platform. IBM has also acquired Merge Healthcare, AlchemyAPI, Phytel, and Explorys to boost Watson's capabilities, and IBM had the maximum AI patents among peers in 2015.
According to IBM's website, "IBM Watson is a cognitive computing system that analyzes large volumes of data, understands complex questions posed in natural language, and proposes evidence-based answers, which are the core elements of cognitive computing and deep learning."
Amazon wants in too
Amazon.com (AMZN) is also showing a deep interest in this space. According to bizjounals.com, Amazon used its Alexa Fund to host a voice technology summit in late August to make a move toward developing its own virtual assistant offerings. Alexa Fund was founded in June 2015 to encourage voice technology innovation from start-ups and developers, regardless of size.
You might consider investing in the PowerShares QQQ Trust Series 1 ETF (QQQ) to gain exposure to Microsoft. MSFT accounts for 8.4% of QQQ. Investors looking for application software exposure might also consider QQQ. Application software accounts for ~28.4% of QQQ.
Now let's look at valuations.